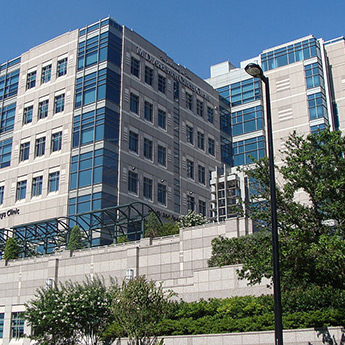 Finding a new president after Doctor Ronald DePinho's resignation is one of several challenges MD Anderson is currently facing.
The hospital needs to climb out of a financial hole to remain a top institution for cancer research and treatment.
From September to December of 2016, MD Anderson's deficit was close to 170 million dollars.
In early January, the hospital announced layoffs for about 1,000 workers.
Vivian Ho, who chairs the Health Economics Department at Rice University's Baker Institute, explains part of the problem is that "many insurers have cut MD Anderson out of their provider network because they can't afford the cost of all their patients going in for all their treatments at MD Anderson."
Ho thinks one of the measures MD Anderson could take to improve its financial situation would be lowering costs for relatively easy to treat cancers, such as less aggressive types of prostate cancer.
Michael Fields, dean for the Davies College of Business at the University of Houston-Downtown, notes the hospital's new leadership should reassure its workforce because "if you can't convince your internal public that this ship is still maintaining a course, then that's going to create some concern with the external public that's going to impact the financial action or activity."
DePinho will stay on his position as MD Anderson's president until May.