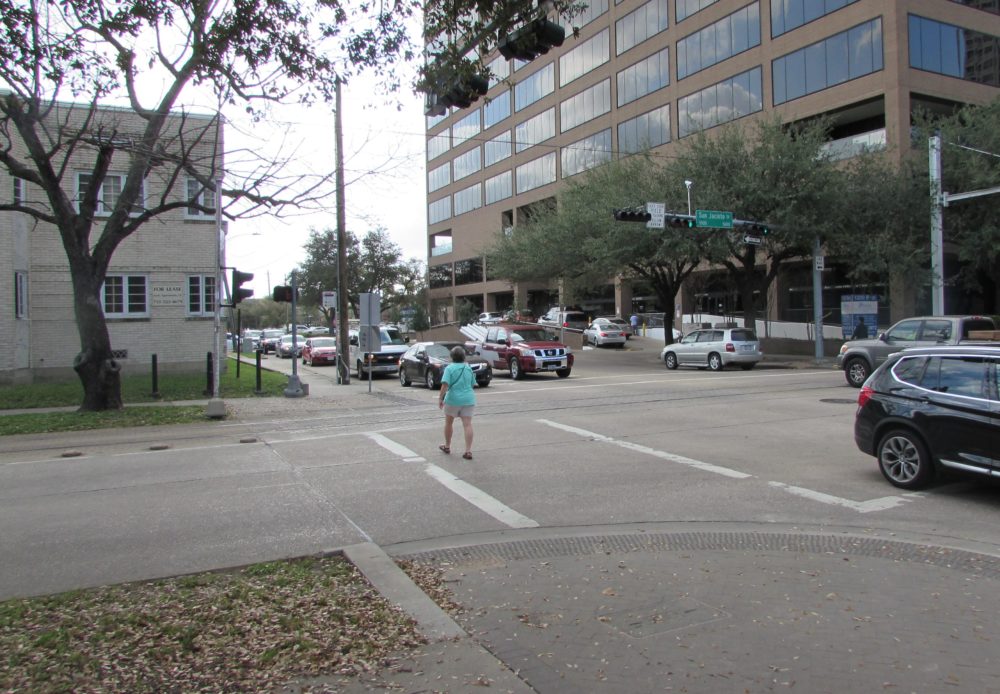 A lot of people remember May 25, 2015 as the day the big Memorial Day flood hit Houston. M.T. Filley remembers it as the day she was almost hit while riding her bike.
We met Filley where it happened, at Binz and San Jacinto in the Museum District. She told us how she was nearly hit head-on by a vehicle "who just chose to just ignore or blow through, or whatever his story was, on a left-turn yield flashing yellow arrow."
Filley was headed downtown to work before the rains came, when an uneventful ride nearly resulted in a crash.
"As I rolled to the first lane that compresses tight, he hit the gas and nearly slammed into me," says Filley. "I almost went over his hood."
Filley was lucky that day not to become a statistic. So far this year in Houston, at least three people have been killed on bikes. At least 14 pedestrians have been struck and killed.
But it's a lot harder to measure near-misses, incidents that don't result in a crash.
We posed the question to Cpt. William McPherson, the head of the Houston Police Department's Vehicular Crimes Division.
"You could be taking about five, six, seven, maybe even 10,000 close calls a day," says McPherson.
Under the law, officers can give tickets for near collisions, if they determine the driver is at fault. They can also ticket drivers for passing too close to cyclists, under an ordinance City Council approved about four years ago.
But McPherson admits it's not always easy.
"Basically it's very simple," explains McPherson. "The officer has to witness it."
To try to get a handle on the number of close calls, Rice University's Kinder Institute is working on a study to see how often these near-misses actually happen.
"These are incidents that are often missed in data points," says researcher Kyle Shelton. "People experience them in their daily travel. And then they are not recorded."
To do that study, Kinder recruited volunteers to record their daily travels by foot or by bike. They'll do that with a cellphone app.
They'll also provide information about their close calls with vehicles.
Kinder Research Fellow Dian Nostikasari says when they go through the research, they'll look for recurring themes — not just where those incidents happened, but how the person felt afterward.
"And it gives a finer detail of understanding on how people travel and what encourages or discourages them from actually going out there on the streets," adds Nostikasari.
And the confidence people have about walking or riding —- that's a major issue as Houston tries to encourage people to get out of their cars.
Research engineer Robert Benz at the Texas A&M Transportation Institute says street design can go a long way in helping walkers and cyclists feel safe. But to avoid close calls it's a matter of everyone simply paying attention.
"Everybody has to do their part and follow the rules," says Benz. "Stopping at stop signs, obeying the speed limit, so on and so forth. And we see it every day that people do not do that."
Back in the Museum District, cyclist M.T. Filley says if Houston doesn't improve its attitude about street safety, young people who want to live without a car might not stick around.
"There's a different cost of living and a different attitude somewhere else," says Filley. "And if the youth market doesn't feel like this is a place where they can settle down, pursue a career, start something, they'll leave."
Kinder Institute researchers say once they compile data from their study, they'll put together a report that can be used to help plan future bike and pedestrian projects.