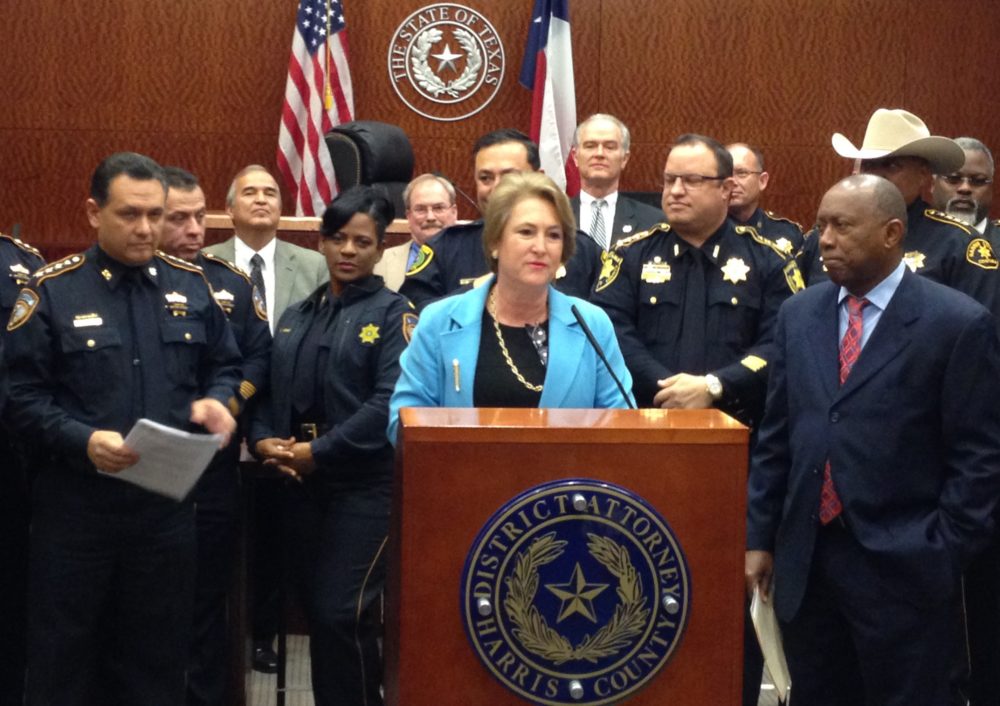 (Above: District Attorney Kim Ogg (center) announced the marijuana diversion program during a press conference held at the Harris County Criminal Justice Center on Feb. 16, 2017, where she was accompanied by Houston Mayor Sylvester Turner and Harris County Sheriff Ed Gonzalez, among others
Photo: Al Ortiz, Houston Public Media)
Feb. 17, the city of Houston and Harris County announced a new policy to, in essence, decriminalize low-level possession of marijuana.
Under the new policy taking effect Wednesday (March 1, 2017), offenders found in possession of less than four ounces of marijuana will not be arrested or ticketed. They wont even have to appear in court, provided they agree to take a four-hour drug education class.
The new policy has been praised by Harvard's Fair Punishment Project, which calls it "wise and compassionate." It's been criticized by Montgomery County District Attorney Brett Ligon.
We talk with Katharine Neill from Rice University's Baker Institute of Public Policy about some of those changes over the last decade, and how they've played out in different cities and states, and how the new Houston/Harris County policy compares. Then, we talk with Harris County District Attorney Kim Ogg about the decision to pursue this new policy and what she sees as the benefits.