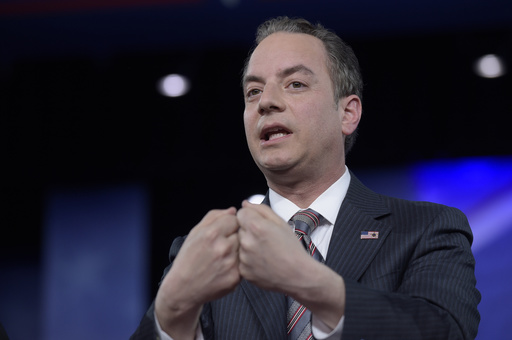 1. WHO ASKS FBI TO DISPUTE RUSSIA REPORTS
White House chief of staff Reince Priebus wanted the agency's top official to challenge media reports that Trump's campaign advisers were in touch with Russian intelligence agents during the election campaign.
2. WHAT MALAYSIA SAYS KILLED OUTCAST NORTH KOREAN SCION
The banned chemical weapon VX nerve agent, considered by some experts to be the nastiest of nerve agents , was used to kill Kim Jong Nam by two women who rubbed the substance on his face.
3. ATTACKS NEAR SYRIAN TOWN CAPTURED FROM ISLAMIC EXTREMISTS KILL 62
Meanwhile, the U.N. envoy for Syria kicks off his second day of meetings aimed to reach a political solution to end the country's war by hosting a delegation from Assad's government.
4. SHOOTING OF INDIAN MEN IN KANSAS CALLED RACIALLY MOTIVATED
The accused man is charged with murder and attempted murder. The attack sends shock waves through the victims' hometowns in India .
5. WHERE IRAQI FORCES REGAIN GROUND FROM IS LAMIC EXTREMISTS
Iraqi forces take control of most of Mosul's airport and all of military base next to it on city's southwestern edge.
6. WHY SUPREME COURT COULD DECIDE TRANSGENDER CASE
Both the transgender teen who sued to use the boys' bathroom and the Virginia school board that won't let him want the justices to issue a definitive ruling in the dispute.
7. CAITLYN JENNER CALLS TRUMP TRANSGENDER DECISION 'A DISASTER'
She is taking Trump to task for his administration's reversal of a directive on transgender access to public school bathrooms.
8. HOW TRUMP RETURNS TRANSFORMED TO CONSERVATIVE CONFAB
Trump will find a much more receptive crowd at the nation's largest gathering of conservative activists than when he first addressed the group six years ago.
9. VULNERABLE DEMOCRATS LAY LOW
Some senators are avoiding town hall meetings as their Republican counterparts get pummeled by an energized electorate frustrated with President Donald Trump's early agenda.
10. FAR-RIGHT CANDIDATE SEES FRANCE WITHOUT KIPPAS OR HEADSCARVES
Marine Le Pen's plan to ban religious symbols from French streets if elected president targets both the country's Muslim population and Europe's largest Jewish community.