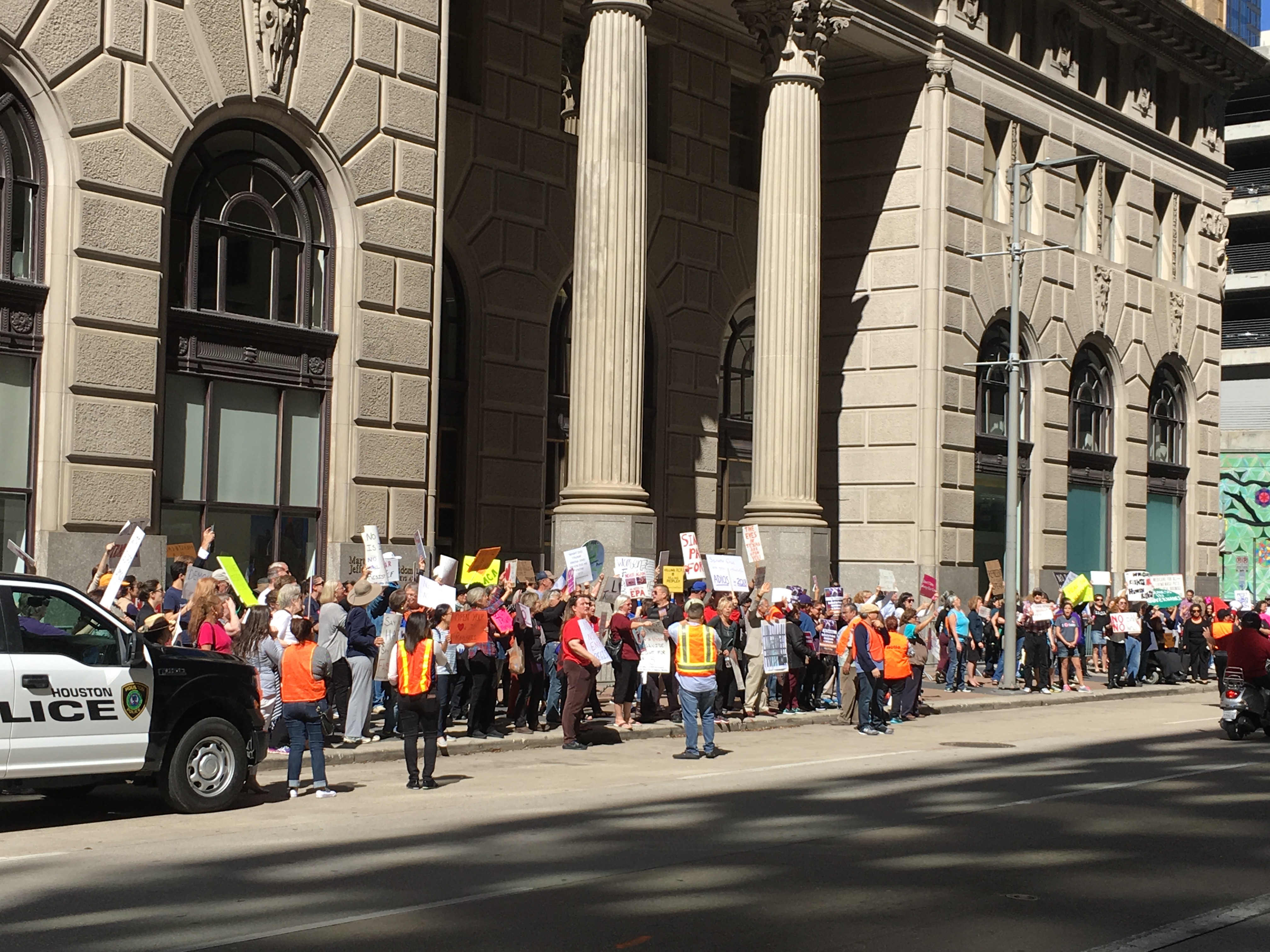 With Congress in recess, Sen. Ted Cruz is back in Texas. Many of his constituents in Houston have been trying to reach him for nearly a month to express their frustration against actions by President Donald Trump and the Republican-led Congress. When he declined to meet with or respond to them, they organized a demonstration in front of his office in downtown Houston, an event they billed as "a Town Hall Without Cruz."
Demonstrators lined up six-deep for more than half a block in front of the Esperson Building on Travis Street. Most told a variation on the same story.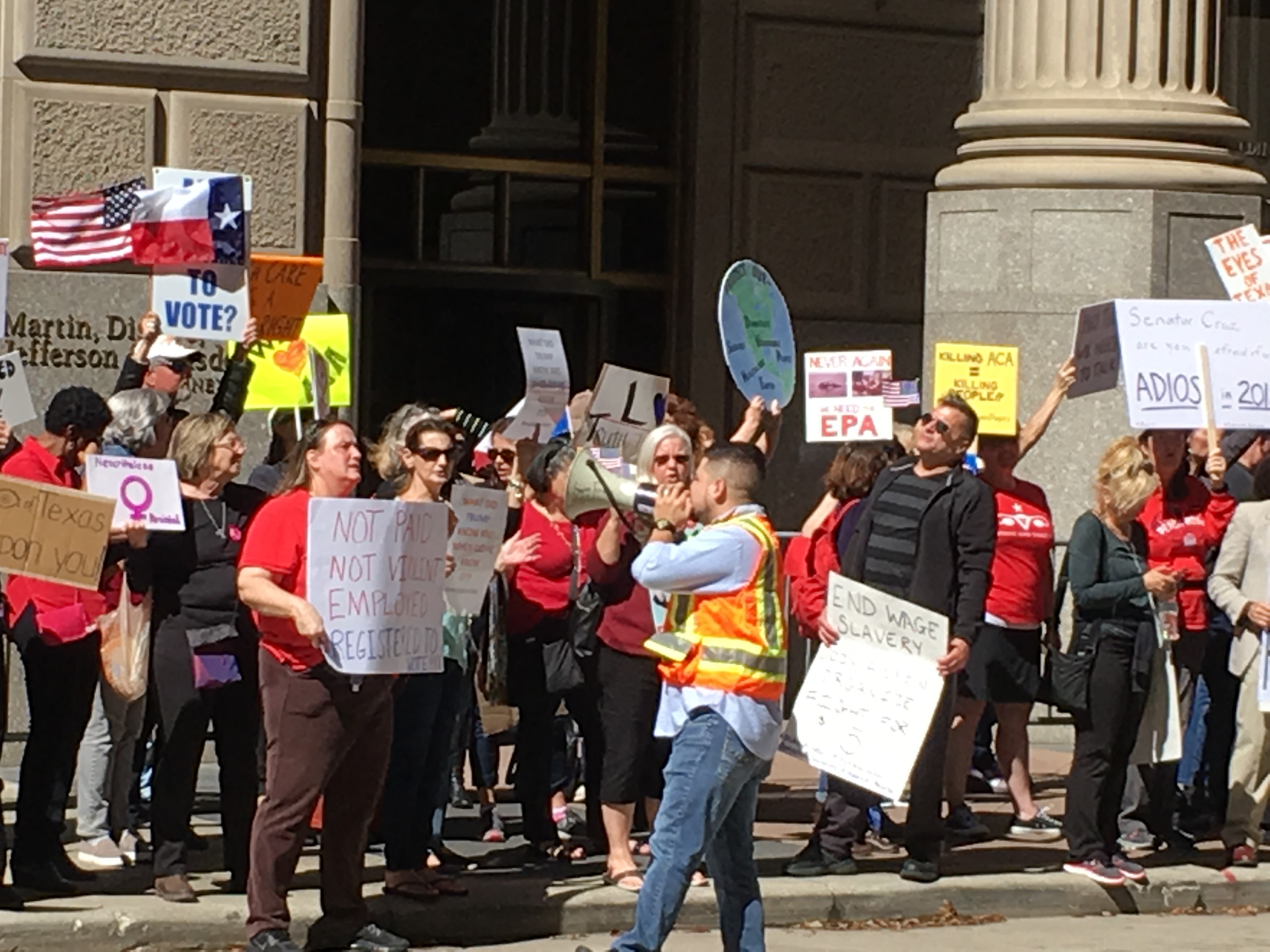 "Everybody in this line has been trying for weeks to talk to people in the office to get answers to questions," said Jane Moser. "He sends a form letter maybe. He cuts off his phone lines. He does various things to keep from hearing. We're wanting a town hall."
Kris Griffith went so far as to hand deliver a note to one of the senator's staffers.
"You know, we're his constituents," said Griffith. "We may not have voted for him. But clearly Trump is a disaster, and if he wants to be taken seriously at the next election, he needs to listen to us."
Following a bitterly contested primary last year, Cruz eventually endorsed Trump for president. He's since voted in favor of all Trump's cabinet nominees.
Cruz eventually agreed to meet with a handful of the protesters in his office. The demonstrators described the meeting as "cordial." However, the senator would not commit to holding a town hall with constituents this year.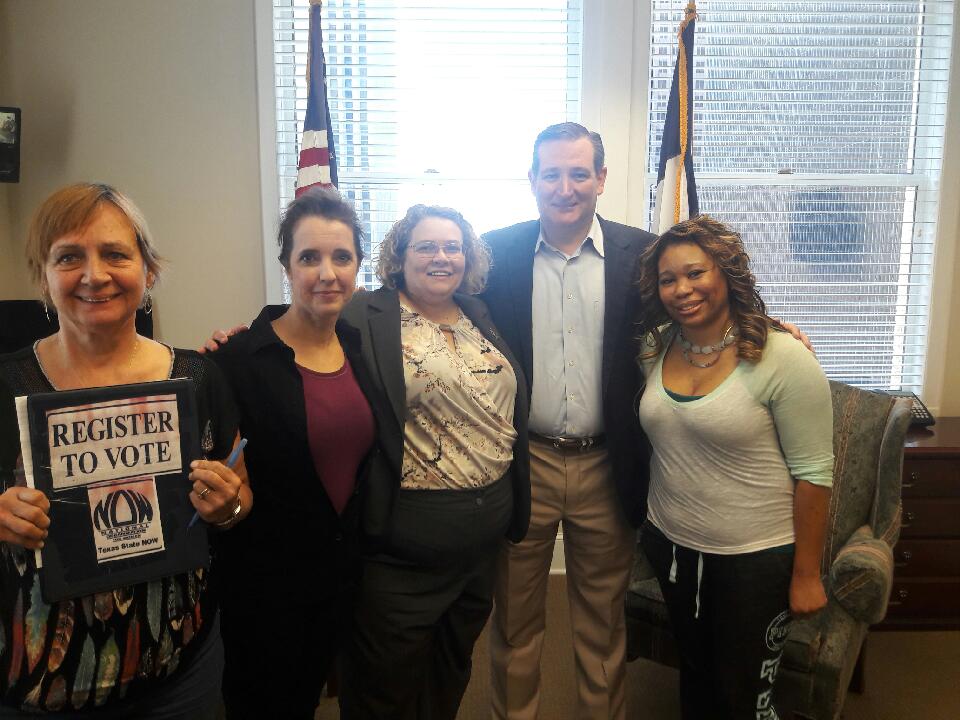 "He met with each delegation separately," said Christy C. Callahan, a Galveston resident who was in the last of the three delegations. "The meeting was cordial, and our group spoke with him for about 40 minutes. We will continue to hold demonstrations outside of his office every Tuesday at noon during the first 100 days since the Women's March or until he agrees to meet with the public for a free and open town hall meeting about the issues."
Texans have had similar problems reaching other members of their congressional delegation by phone or social media. Senator John Cornyn said that, during the confirmation fight over Education Secretary Betty DeVos, his office received a deluge of communications that crashed his voicemail system and threatened to do the same to his website.