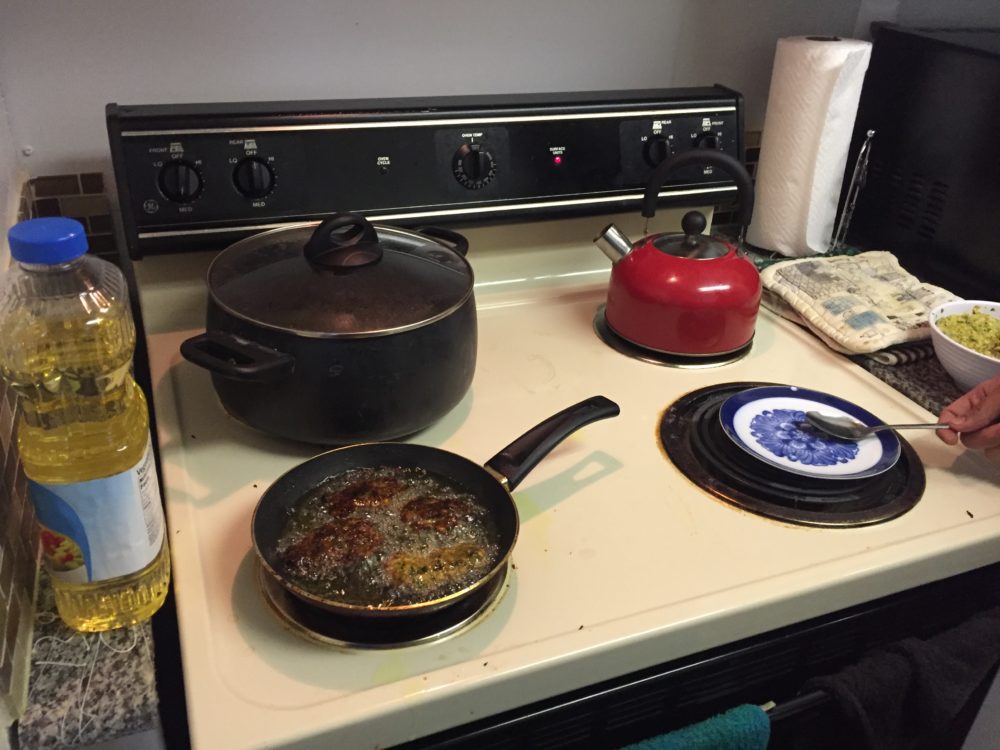 Ever since President Donald Trump put a hold on refugees to the United States, there's been political turmoil, lawsuits and protests. But before the ban, Greater Houston welcomed more refugees than most U.S cities. Here's one of their stories.
In an apartment in west Houston, it's almost dinner time for this family. Murtadha heads to the stove, turns on the fan overhead and fries up some kebab. (We are not using his last name out of concern for his safety.)
He lists the ingredients that create this meat dish from his native Iraq: "Ground beef and little flour and parsley, I think garlic and onion – chopped onion."
Murtadha knows his way around a kitchen. Back in Baghdad, where he grew up, he worked for two years at the US. Embassy. First as a janitor, eventually as a chef. He cooked for thousands of American officials there.
He said every Tuesday was chicken wings day and he would fry some 200 boxes. In the mornings, sometimes he would fry the bacon.
Murtadha said that a job at the U.S. Embassy was the best opportunity he could find in Baghdad.
Outside the sprawling, secure American complex, it was hard to find work – and dangerous.
"Like you're walking and you don't know when the car bomb will come for you and you die. Or you walk with an American, American army or American embassy, somebody kidnaps you, like militia, and kill you," he explained.
Murtadha was so scared for his life that he applied to come to the United States as a refugee. He explained why he wanted to leave through a translator.
"He found it was a chance to live longer because there was no guarantee he'd live long enough with all the dangers around him," he said.
Murtadha had other reasons to come: He had family members here. He waited over two years to be vetted, interviewed and gain approval.
He arrived in Texas with his mother, just weeks before Trump's ban on refugees and immigrants from certain countries took swift and surprising effect.
People protested in Houston and across the country. Texas resettles roughly 7,000 refugees a year, and most of those land in Houston.
Murtadha has his own thoughts about the ban. To start, he doesn't understand why his native Iraq is included, since so many Americans work there.
"This is wrong. It's wrong, because you know in Iraq, many people from America coming," he said. "Why he give ban if American people there and he give ban for this country?"
The ban has prompted Iraq to reciprocate with their own order to keep Americans from entering.
He also questioned why Trump didn't put other Middle Eastern countries on the list, like Jordan and Saudi Arabia.
But even with that international tension, Murtadha said that he feels very welcome in his new home of Houston. He's already visited Galveston, the zoo and the Galleria.
And the food?
"The food is good food. I like Taco Bell food and KFC," he said.
Murtadha, 22, is enrolled in English classes and just started working at a bakery. He thinks he may join the U.S. Army later. But he doesn't want to move back to Iraq.