Hundreds attended 'Muslim Capitol Day' in Austin on Tuesday. The regular event encourages Muslim Texans to meet with their state representatives. The event was scheduled months ago, but takes on new meaning following Friday's executive order by President Donald Trump restricting U.S. immigration from seven majority-Muslim countries.
More than a thousand people flooded the south steps of the Capitol for the event organized by The Council on Islamic Relations, or CAIR. CAIR San Antonio President Sarwat Husain says it's been her duty to come here every other year and make her voice heard.
"Lately we have seen some demonstrations against us," Husain says. "That is not going to stop us at all. We are Americans."
Two years ago, the Muslim Day rally was interrupted by protesters. Today, hundreds of non-Muslims formed a human chain to keep any protesters away from participants. Rashad Sharaf was one of at least 30 Muslims who came to Tuesday's event from San Antonio. He says the display made him feel proud to be an American.
"After the elections, I was slowly beginning to lose faith, but now, really, when I see–around the country–how people have spontaneously risen to protest. And what I see in San Antonio, what I see over here, it really is heartwarming," Sharaf says.
He and others visited the offices of several state lawmakers–including House Speaker Joe Strauss. The group brought up issues including immigrant rights, bullying and police body cameras. Muslim groups also came from Houston and Dallas.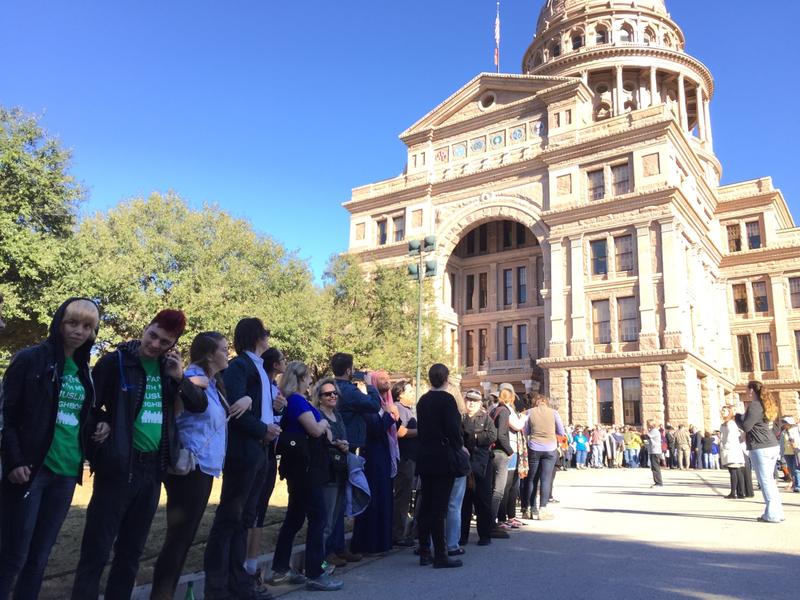 Last week, Rep. Kyle Biedermann from Fredericksburg drew criticism from Muslim groups after he sent a survey to Texas mosques asking them to renounce Sharia law.
Tuesday's Muslimay rally and visits happened as Gov. Greg Abbott gave his State-of-the-State speech. The governor has not responded to Trump's so-called Muslim ban, but he did withdraw the state from the U.S. Refugee Resettlement program last year.
Copyright 2017 KSTX-FM. To see more, visit
KSTX-FM
.
Subscribe to Today in Houston
Fill out the form below to subscribe our new daily editorial newsletter from the HPM Newsroom.