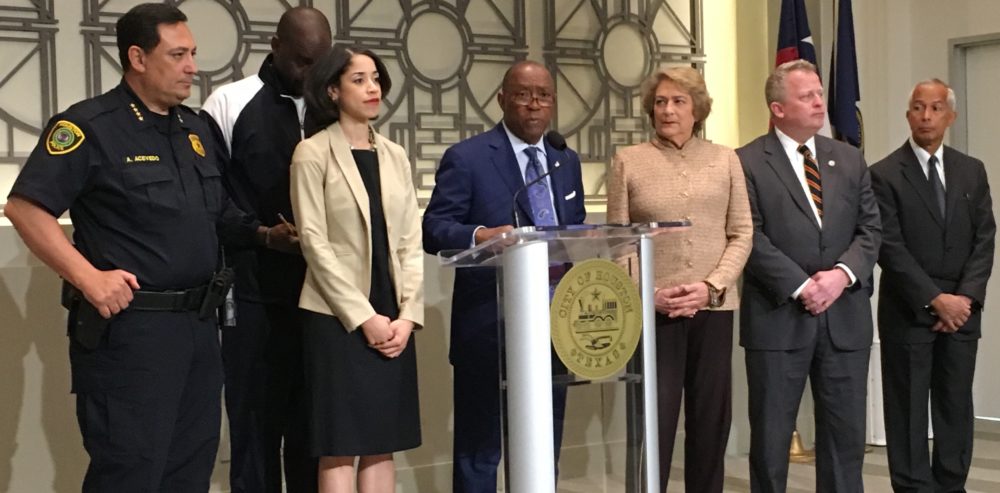 UPDATE 5:55 p.m.: Mayor Sylvester Turner had words of praise for how demonstrators and police officers handled themselves this past weekend at Bush Intercontinental Airport and at the George R. Brown Convention Center. Turner says there are many in the community who are concerned, scared and uncertain about how they may be impacted by President Trump's order.
"Like many mayors, I too believe that the White House needs to re-think its executive order," Turner said. "And I encourage them to do that."
Houston leaders are sensitive to the city's image, especially with the eyes of the world watching during Super Bowl week. And with the mass shootings at a mosque in Quebec City, Houston Police Chief Art Acevedo sent a message of solidarity to local houses of worship.
"Our police department has reached out to all of our mosques to reassure that community that we stand with them," Acevedo said. "We will not tolerate anyone targeting that community. And again, if you're the victim of a crime or witness to a crime, please come forward. We're here to serve and protect."
This isn't the first time that Mayor Turner has reacted to a Trump directive. Last week, he issued a statement saying Houston will not profile people to determine whether they're here legally. He's doubling down on that.
"HPD does not profile. It hasn't in the past, will not do it in the future," Turner said. "HPD is not ICE. We don't build walls, we don't separate families. We are and will remain a welcoming city."
Houston airport officials say there were travelers from the seven banned nations that came through Houston over the weekend. Everyone was cleared, and allowed to enter.
PREVIOUSLY: Houston leaders are reacting to President Trump's executive order on immigration and the protests that took place across Greater Houston.
Mayor Sylvester Turner on Monday urged protesters to make their opinions known in a peaceful way. He also called on the White House to reconsider the executive order.
Houston Police Chief Art Acevedo praised both police officers and activists with their restrained behavior over the weekend.
For more, listen to Ed Mayberry's report above from Houston City Hall.