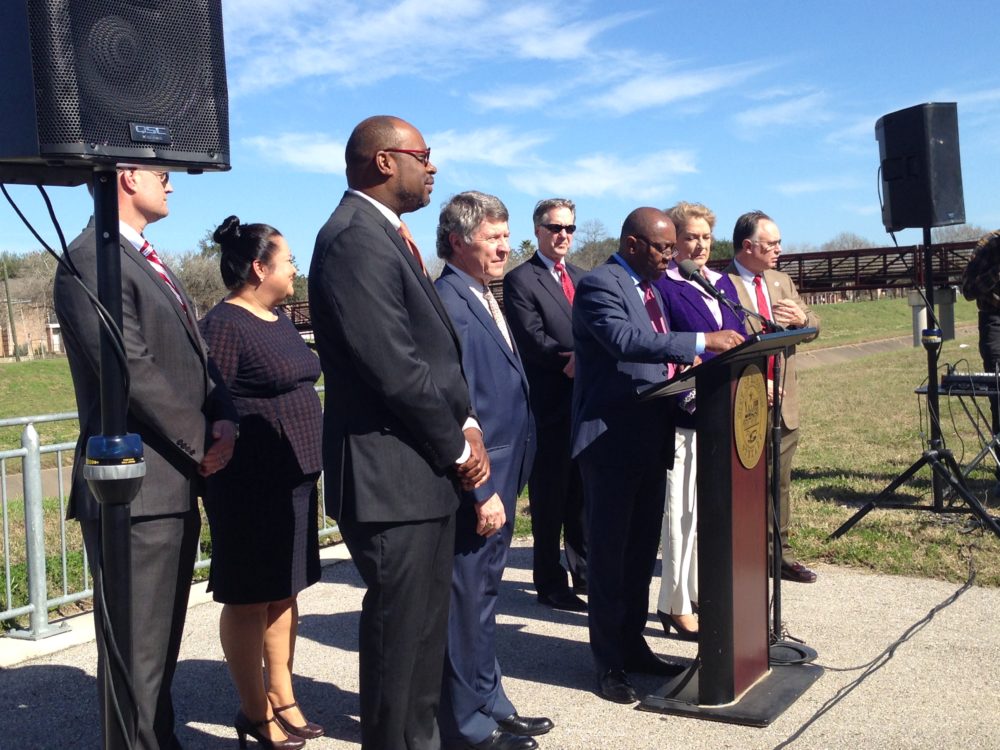 Houston area leaders have a new plan to prevent flooding and it involves swapping money back and forth between different agencies.
Houston mayor Sylvester Turner, Harris County Judge Ed Emmett and other local elected officials announced during a press conference held next to Brays Bayou that the City of Houston will borrow money from the State of Texas for flood protection improvement projects that involve three bayous: Brays, Hunting and White Oak.
Specifically, the City will borrow funds through a loan from the Texas Water Development Board.
The City will redirect those funds to the Harris County Flood Control District, the County will subsequently be reimbursed by the federal government and ultimately return the funds to the City.
Turner says improvements on Brays Bayou will be first because the feds have already approved them and the engineering work has been completed.
According to the mayor's office, the project for Brays Bayou entails a budget of 43 million dollars that will pay for extensions and channel widening in the Brays watershed, as well as bridge replacements.
"The work on Hunting and White Oak bayous will follow pending Congressional approval and a separate agreement with the Flood Control District. The total estimated cost of all three projects is 130 million dollars," Turner detailed during the press conference.
The mayor added in a statement that these projects will "remove hundreds of properties out of the 100 year flood plain."
Josie Duffey lives near the Meyerland area, which is very close to Brays Bayou and has been devastated in the past two years by multiple floods.
She supports the measure and told Houston Public Media that "people need to know that somebody is out there listening to them. You know, it's like the forgotten neighborhood."
Sheldon Weisfeld also lives in southwest Houston, but questions the engineering design for Brays Bayou.
"If we're borrowing money for a project that's ineptly designed it, it doesn't matter how much money you throw at it," noted Weisfeld, who thinks county engineers should widen Brays Bayou from its mouth all the way downstream and install more flood preventers.