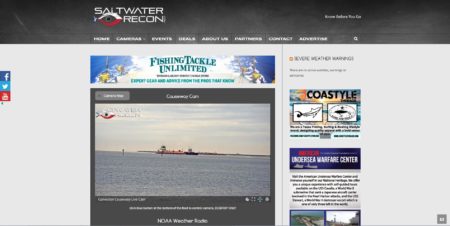 In the past, getting current information about conditions on the bay before you load up the boat and head to the water has been difficult. But a new website now shows real-time pictures of Trinity Bay, San Luis Pass and the Galveston Causeway. And the cameras can be moved and adjusted for close-ups. Saltwater-Recon is the creation of Urs Schmid, of Pearland.
"The cameras are IP cameras. They're high-end cameras. All we have to do is mount them, set up power and Internet and they're good to go."
Schmid works out advertising deals with businesses willing to host a camera. He sees these webcams as useful in a variety of ways.
"Boaters, saltwater enthusiasts, we've got kayakers, windsurfers. I mean, just about anybody that does anything on the water — even just people that want to look at the water. It's a live feed, it's a very high-quality stream."
Schmid says webcams are not only useful for recreation: "We hope to be a really good resource for like NOAA, the Coast Guard, National Weather Service, Corps of Engineers, Texas Parks and Wildlife, any police force that uses the water — you know, decide whether they need to take so-and-so equipment because the weather's terrible."
Schmid hopes to expand the number of webcams up and down the Gulf Coast, including Port O'Connor, Rockport, Corpus Christi and Padre Island.