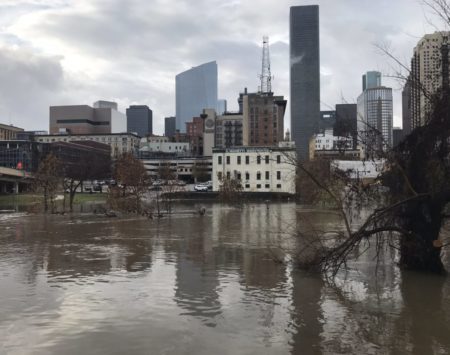 After repreated flooding, a group of Houston citizens want action. They're circulating a petition calling for the creation of a regional body to better control new development that they say contributes to flooding.
The Meyerland-based group "Citizens Solutions to Flooding" says Houston's natural tendency to flood has been worsened by uncontrolled development and too many roadways and parking lots that rapidly collect rainwater.
Ed Browne is a homeowner near Memorial City who's been active on flooding issues. He'd like to see creation of a regional body with oversight over new construction and development.
"For example, Fort Bend has requirements to store 75 percent of their runoff. Harris County has 50 percent. Galveston County has 100 percent. The big floods in the northwest part of Harris County, most of that water came from Montgomery County."
Browne says there should be coordination between governmental entities in the permitting process, as well as financial incentives for property owners to follow more effective standards for controlling storm water runoff.
"Flooding doesn't know any boundaries. I mean, water doesn't care whether you're in Harris County or Montgomery County of Fort Bend. Unless we address the whole watershed, one area or another is going to suffer."
The group hopes to deliver their petition to Houston's Flood Czar and to the mayor, as well as to the Harris County Commissioners and state legislators.