It's difficult to independently verify whether human trafficking substantially increases during major sporting events. But Houston leaders say there is plenty of anecdotal evidence that trafficking happens anyway, and they're using the Super Bowl to draw attention to it.
FBI Special Agent Doug Williams spoke at an event at Houston City Hall on Thursday.
"It's easy to focus on this issue in light of our upcoming high-profile events," said Williams, who oversees the Bureau's human trafficking programs in Houston. "The sad reality is this is not only a Houston problem, but a problem we see every day in communities across the United States."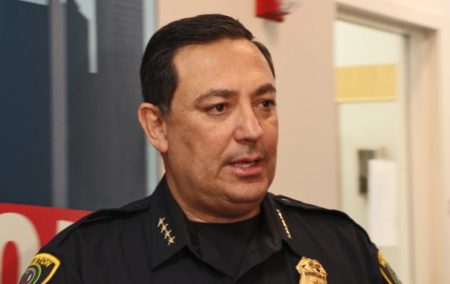 Carnegie Mellon University has tracked an increase in online sex ads during large sporting events. But an uptick in advertising doesn't automatically equate to more trafficking.
Nevertheless, new HPD Chief Art Acevedo says he will deploy vice officers with an aggressive approach.
"And for the Johns coming into this city, we're putting you on notice today," Acevedo said. "We're going to have undercover officers, so you think you might be looking for a little boy or little girl, or a young woman. And what you might find is a police officer ready to arrest you."
The chief said they are working closely with non-profits to assist any trafficking victims who are rescued during sting operations.