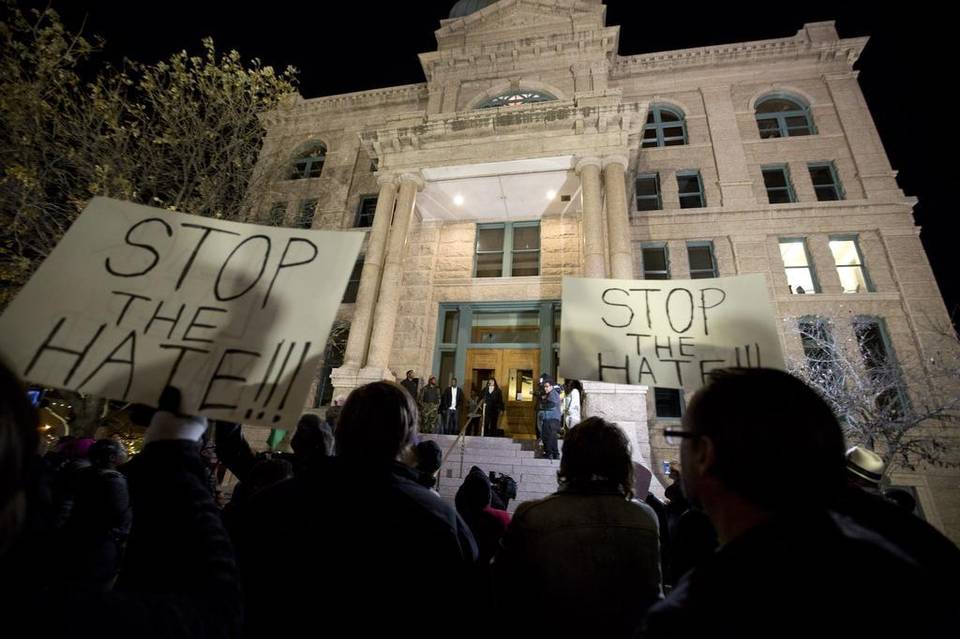 A white Fort Worth police officer captured on cell phone video wrestling a black woman to the ground before arresting her and two of her teenage daughters will be suspended for 10 days without pay and will not be fired.
Fort Worth Police Chief Joel Fitzgerald announced the discipline at a news conference Monday following a nearly three-week internal investigation of the Dec. 21 incident. Fitzgerald says the officer had inappropriate contact with Jacqueline Craig and her daughters, and that his conduct disappointed him.
The officer has been identified as William A. Martin.
LISTEN: The KERA radio story
Fitzgerald says the suspension is "significant," and he has asked Martin, who will also be required to undergo additional training, to go back into the same community when the suspension ends "to repair relationships."
"We are not sanctioning bad behavior… People make mistakes. We have levels of mistakes that every police officer makes," Fitzgerald said. "Some things deserve punishment; some do not. Some deserve termination and some do not."
Officer 'realizes his attitude was not proper'
Last month's incident happened after 46-year-old Craig complained that a neighbor choked her 7-year-old son for littering. In a viral video, the officer questions Craig's parenting. One of Craig's daughters tries to push her mother away from the officer, but the officer forces Craig and the teen to the ground. He thrusts a stun gun into Craig's back.
The officer arrested Craig and her daughters on charges that include disorderly conduct.
Martin says he is sorry and "realizes his attitude was not proper," Fitzgerald told reporters Monday.
The disciplinary report submitted to the Civil Service Commission says Martin violated department policy by using excessive force and failing to thoroughly investigate. Other findings included neglect of duty, being discourteous to the public and conduct prejudicial to good order.
"Officer Martin violated state and departmental rules and policies by using excessive force, being disrespectful, and failing to thoroughly investigate a criminal offense," Fitzgerald writes in the letter.
Martin's attorney appeals suspension; family in 'disbelief'
Terry S. Daffron, an attorney representing Martin, said he has appealed the suspension.
"Clearly, we do not agree with the findings contained in the Chief's disciplinary letter," he wrote in an emailed statement. "We look forward to a fair, neutral, and impartial hearing process, free from political pressure and influence, one where Officer Martin will finally have a 'voice' and all of the evidence will be considered by the arbitrator."
Craig's attorney, S. Lee Merritt, had demanded that Martin be fired and criminally charged, that all charges against the Craig family be dropped and that the neighbor be charged with assaulting her son. Merritt did not immediately return a phone call from The Associated Press Monday seeking comment, but he posted a video statement to Facebook Monday afternoon calling the suspension "intolerable" and describing it as a vacation.
"They are understandably in disbelief, shocked and upset," Merritt said of the Craig family. "There are still charges pending against the Craig family."
Case to be presented to a grand jury
Fitzgerald said some members in the police chain of command did not agree with his disciplinary decision, but the ultimate decision was his to make. He referred questions about possible criminal charges to the Tarrant County Criminal District Attorney's Office.
Sam Jordan, a spokeswoman for the district attorney's office, says the case will be presented to a grand jury in its entirety, but a date had not been set as of Monday. She says the grand jury will then decide whether the officer, the mother and her daughters or the neighbor involved in the altercation that drew police will face any criminal charges.
The December incident
In a Dec. 23 press conference, Fitzgerald said he was disturbed by the officer's behavior in the video. The officer was placed on restricted duty status during the investigation.
"It did not in any way make me feel as if our internal affairs unit or anyone within the Fort Worth Police Department could not get to bottom of what happened here and provide justice to everyone involved," Fitzgerald said.
Fitzgerald didn't have information on whether past excessive use-of-force complaints had been made against the officer.
Warning: Content may not be suitable for all viewers.
The Associated Press contributed to this report.
Copyright 2017 KERA-FM. To see more, visit
KERA-FM
.