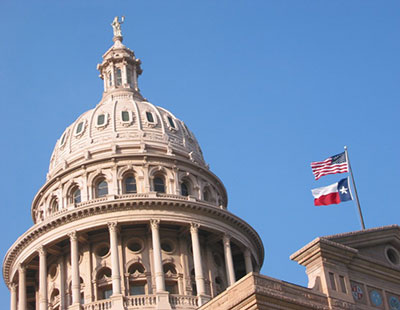 Today the Texas Comptroller will release the biennial revenue estimate. In plain English, it's the document that spells out how much money the state Legislature will have to spend over the next two years. It will fund such critical services like law enforcement, education and transportation.
The picture is expected to be grim compared to February 2015, when Gov. Greg Abbott delivered his first budget to the Legislature.
Abbott presented that budget along with his first State of the State Address. He opened his speech by praising the strength of the state's economy, saying Texas had led the nation in job creation for so many years, it was hard to keep track. "But this last year in 2014, we literally outdid ourselves," Abbott said. "Last year, Texas created more jobs than any year in the history of this great state."
"Well right after Gov. Abbott took office, we saw a huge drop in oil and natural gas prices," says Bernard Weinstein, an economist at the Cox School of Business at Southern Methodist University. Those low prices hurt businesses in regions like the Permian Basin in West Texas and the Eagle Ford Shale region in the south, not to mention Houston.
"Less economic activity in the oil patch meant there was less revenue coming into the state treasury from severance taxes," Weinstein says, referring to the taxes energy companies pay when they pull oil and gas out of the earth. As those companies, and others, let workers go, people cut back on their spending. That hurt sales tax receipts.
"Right now," he says, "it looks like we're going to be about $2 billion short over the projections that were made two years ago, when the comptroller certified the budget." That's just for the current two-year budget cycle, which ends on August 31.
The bigger challenge is figuring out how much the state can afford to spend over the next cycle, which starts September 1. "It's going to depend, number one, on how well the Texas economy is doing overall, and number two, it's going to depend on how much of a recovery we see in oil and natural gas prices. They're up from their lows of a year ago, but still well below the levels that we saw back in 2012 and 2013."
Last July, Abbott, Lt. Gov. Dan Patrick, and House Speaker Joe Straus told state agencies to cut their budget requests by 4 percent. The demand came with exceptions for several major budget items. These included health care programs for low-income Texans, public school education, and border security.
But SMU's Bernard Weinstein says protecting social services from cuts could soon get a lot tougher. "Because we now have a very, very conservative Republican Congress and Republican president," he says, "and who knows what they're going to do with the variety of programs that the state of Texas maintains that depend heavily on federal revenues."
Congressional Republicans have made dismantling Obamacare one of their first priorities. They also want to cut Medicaid spending. Both actions would push the burden of healthcare for low-to-moderate income families back onto the states.
As for education, "the Texas Education Agency gets a lot of money from the federal government," Weinstein says. "If we were to see cutbacks in federal programs that support elementary and secondary education, they could be passed on to local school districts."
The alternative would be for the state to increase its own spending to make up for the shortfall in federal dollars. And it has the money available in a so-called "rainy day fund." But in the current conservative fiscal environment, Weinstein says that tapping that reserve doesn't seem likely.