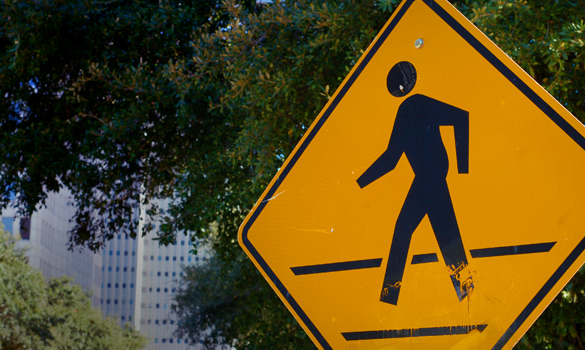 It seems a week doesn't go by that we don't hear about another pedestrian fatality somewhere in Greater Houston. In fact, according to an article in the Insurance Journal as of Nov. 2016, Houston pedestrians who have been struck and killed by cars has risen over 31 percent, HPD admits thats higher than the total for all of 2015. All this is taking place despite ongoing efforts to make Houston more walkable.
So as residents ask – and ask again – to make Houston pedestrian friendly, are there any tricks or schools of thought we're neglecting when planning safer streets? Are there new design ideas that could make Greater Houston a truly, safely walkable community.
On this edition of Houston Matters, Paige Phelps talks with Kyle Shelton, director of strategic partnerships at the Kinder Institute for Urban Research, and Geoff Carleton, a principal at TEI, a transportation planning and engineering firm.
Also this hour…
Responding to Hate on the Web
Reading about a shadowy group harassing someone online seems very removed from the real world – until it happens to you or someone you love. A new report from the Anti-Defamation League (ADL) offers new, clearer insight into what "cyberhate" actually is – from seeds in terrorism, to hacking, to anti-semetic targeting to online bullying. They aimed to give best practices to respond to attacks and explore how cyberhate manifests itself online in the first place. We learn more from Jonathan Vick, assistant director of cyberhate response for the ADL.
The Full Menu: Where to Find Healthy Food When Dining Out
On the latest installment of The Full Menu, food writers Eric Sandler of CultureMap Houston, Katharine Shilcutt of Houstonia Magazine and David Leftwich of Sugar and Rice Magazine, talk about places to get healthy food options to help you keep those New Year's resolutions in 2017.
What It's Like Project
A nonprofit dedicated to providing mental health awareness and support through visual and media arts is presenting its first mental health art show Jan. 6.The art exhibit incorporates the use of photography, exploring individuals' experience with psychosis.
Audio from today's show will available after 3 p.m. CT. We also offer a free daily, downloadable podcast here, on iTunes, Stitcher and various other podcasting apps.