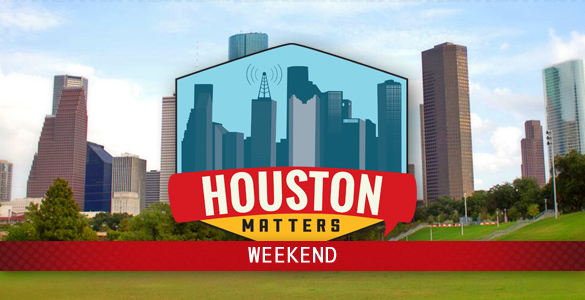 It happened in a flash — 2016 is almost in the Mixdown HMW 123116books. It's been a busy year for Greater Houston, so we're taking some time today to recap this past year's biggest developments with our beat reporters, covering transportation, education, politics and arts and culture and business. On this edition of Houston Matters Weekend, we start off with the year in transportation.
There have been many notable transportation projects this year. Motorists may have noticed construction on I-45. Progress continues with the Grand Parkway. And, in September, TxDOT gave the green light to extend the SH 249 toll road into Grimes County. Also Houston riders may be surprised to learn Metro still has a segment of its light rail that hasn't opened yet.
Plus, Gail Delaughter, News 88.7's transportation reporter attended the Houston Regional Transportation Advocacy Group's inaugural transportation panel and walked away with ideas for the region in 2017.
Also this hour...

The Things Politicians Could Agree On
We continue our look back at the biggest stories of 2016 by examining the year in Houston politics. Of course, the biggest story of the year was the presidential election. But there were plenty of local stories too.
We talk with Andrew Schneider, News 88.7's political reporter, about all the Houston and Texas stories stemming from Donald Trump's win. And we look at some of the big stories closer to home, such as Kim Ogg defeating Devon Anderson in the race for Harris County District Attorney and Ed Gonzalez being elected as the county's next sheriff.
Arts and Culture Meets Business
The past year was another busy one for the arts and culture scene in Houston. The Menil Collection named Houston native Rebecca Rabinow as its new director in May. The White Oak Music Hall opened its outdoor space in April, and then held a grand opening for its new interior space in August. But, there's been some controversy surrounding this Near Northside venue. (Just this week, neighbors sued over excessive noise from the venue). And the University of Houston launched the new College for the Arts in September.
To discuss these stories — and to look back at 2016's biggest arts and culture news — we talk with Amy Bishop, News 88.7's arts and culture reporter.
Then, we continue our look back at the biggest news stories of 2016 by taking a closer look at the year in business and energy. We ask how the oil and gas industry's doing now and examine any projections on how the industry will fare in the year ahead. And we discuss whether the oil and gas industry's recent struggles have affected Houston's other industries. To give us better insights on these matters we turn to Florian Martin, News 88.7's business and energy reporter.
H-Town Band Propels Us into 2017
Houston-based alternative rock duo Catch Fever visited Houston Public Media's Geary Performance Studio to record two songs off their EP You Have All You Need. The band, which was once a three-piece, has seen a steady rise in popularity since its 2014 album Shiny Eyes. Taylor Huffman sings and plays bass while Josh Wilson plays drums, keyboard and synthesizer. They talk about their music and we hear them perform the songs "Eyes on the Stars" and "Lost Love."
Houston Matters Weekend airs every Saturday at 1 p.m. on News 88.7. If you have questions or comments about something you hear, e-mail us at talk@houstonmatters.org. | News 88.7 Program Lineup