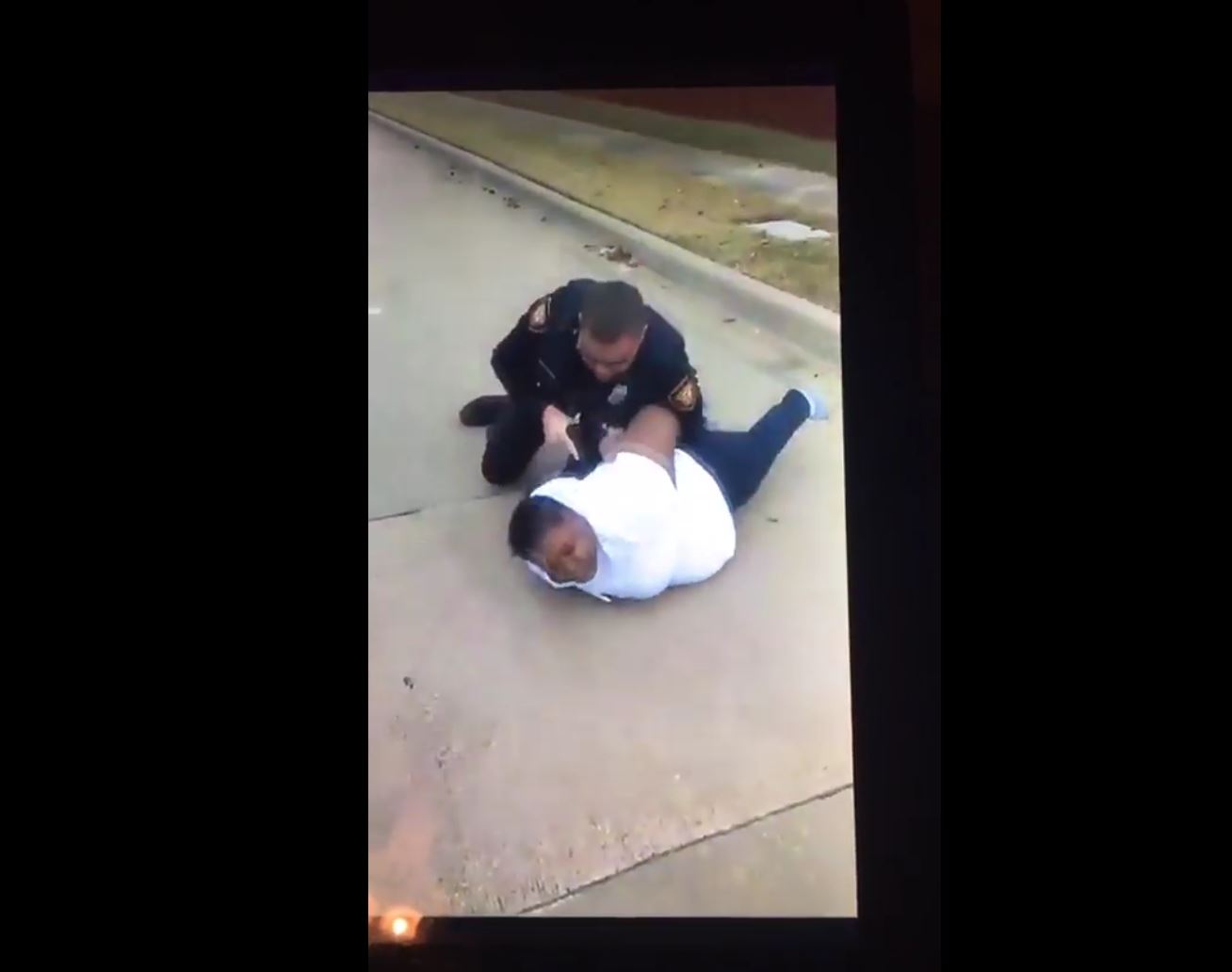 Fort Worth police are investigating a white officer shown in a viral video wrestling a black woman to the ground Wednesday before arresting her and her teenage daughters.
The episode took place in a southern Fort Worth neighborhood — in the 7400 block of Rock Garden Trail, according to the Fort Worth Star-Telegram. Police were called after Jacqueline Craig argued with a man she said had physically confronted her 7-year-old son for littering, according to The Associated Press. In the cell phone video, Craig can be heard telling the officer that the man had allegedly "grabbed and choked" her son.
The video, posted Wednesday by a woman identified as Craig's niece, has been viewed more than 1.1 million times on Facebook. It shows the unidentified officer having a conversation with Craig that quickly escalates. He asks why she hadn't taught her son not to litter. Craig says regardless of whether the boy littered, the man did not have the right to "put his hands on him." The officer says, "Why not?"
In the video, one of Craig's daughters tries to push her mother away, but the officer forces Craig and the teen to the ground. He points a stun gun into Craig's back and then at her daughter when she tries to approach.
Statement from Fort Worth Police
Fort Worth police said in a statement Thursday that they're aware of the video and that Internal Affairs is investigating. The police department says it acknowledges "that the initial appearance of the video may raise serious questions. We ask that our investigators are given the time and opportunity to thoroughly examine this incident and to submit their findings."
Police said in their statement that they have reviewed the officer's body camera footage, but will not be releasing it or many other details because state law regarding internal investigations doesn't allow them to do so.
The officer involved has been placed on restricted duty status, according to the statement.
Statement regarding Facebook Video: pic.twitter.com/omjlHFnXxy— Fort Worth Police (@fortworthpd) December 22, 2016
Craig and family released from jail
The Star-Telegram checked jail records, and reports that Craig, 46, was arrested on charges of resisting arrest and for outstanding traffic warrants. Her 19-year-old daughter, Brea Hymond, was also arrested. Both were released Thursday afternoon, according to Craig's attorney, Lee Merritt and online records. Craig's 15-year-old daughter present at the scene was arrested and released from a juvenile detention center around midnight.
#JacquelineCraig and family released @fortworthpd @ShaunKing @startelegram pic.twitter.com/Lj4aNhNyJL— Maria Chiu (@mariawchiu) December 22, 2016
Merritt said in a Facebook video that Craig and Hymond were interviewed as part of an internal affairs investigation. He also wrote on Twitter that the officer involved will have 48 hours to prepare a statement and talk to an attorney.
Merritt said at a news conference Thursday night that no report was filed on the alleged physical confrontation between the 7-year-old and the man, according to The Associated Press. He said he plans to "request the prosecutor pursue charges" against the man.
Merritt added that he will look into the officer's training and background once he has been identified, according to AP.
Terri Burke, the head of the American Civil Liberties Union of Texas, said in a statement Thursday that she's disappointed the officer is being given two days to prepare.
"This incident and countless others like them demonstrate that for people of color, showing anything less than absolute deference to police officers — regardless of the circumstances — can have unjust and often tragic consequences. This fundamental injustice is also a threat to public safety. If a Black woman in Fort Worth can't call the cops after her son is allegedly choked by a neighbor without getting arrested, why would she ever call the cops again?"
The incident comes after several years of violence son is allegedly choked by a neighborinvolving police across the country that led to the rise of the Black Lives Matter movement. Two summers ago, a white officer in McKinney tackled a young black woman outside a pool party. This past summer, five Dallas police officers were gunned down after a rally protesting two other police shootings.
Police issue safety alert Thursday
Fort Worth police issued a "safety alert" Thursday after a threat was posted on Facebook regarding the vide of the incident. The Star-Telegram reports:
"On God I say we kill all the white cops in Fort Worth," the man allegedly posted on Facebook while sharing the video. Police included a mugshot of the man and that he had previously been arrested for aggravated assault with a deadly weapon, aggravated robbery, unlawfully carrying a weapon and family violence.
"Please use caution if you encounter this individual," the alert states.
Protest scheduled Thursday night
Next Generation Action Network has scheduled a rally in light of the confrontation. According to the event on the organization's Facebook page, the protest will be held at 6:30 p.m. Thursday outside the Tarrant County Courthouse.
Here is the video. Warning: It contains violence and strong language throughout.
This story will be updated.
Copyright 2016 KERA-FM. To see more, visit
KERA-FM
.