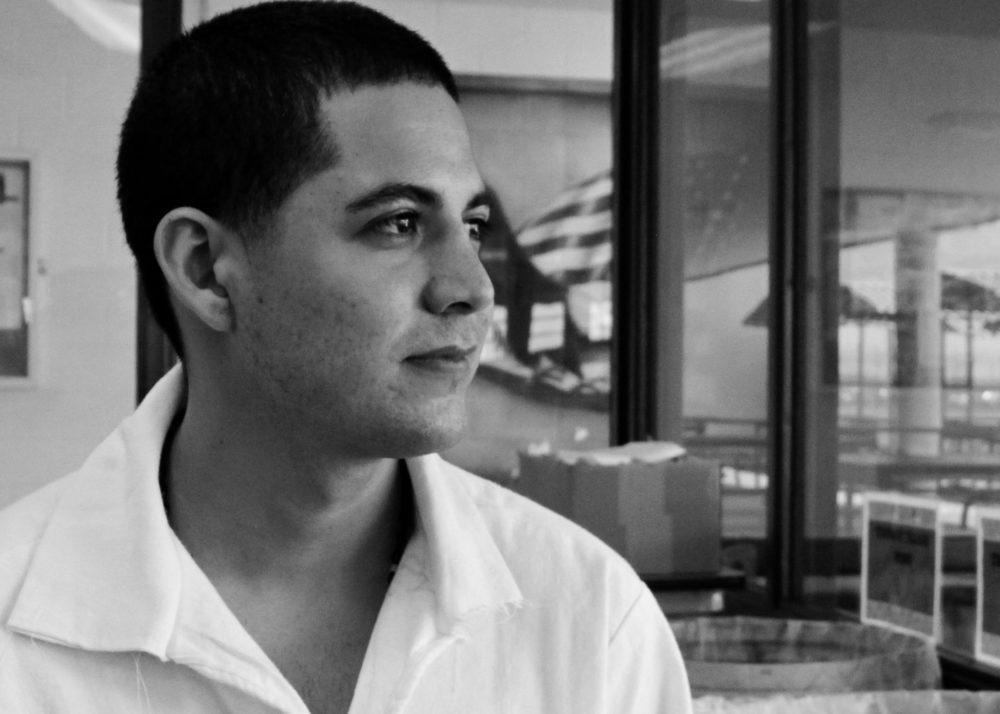 Miguel Navarro had never been to a party with his brother before.
It was 2007, a few days after Christmas in Katy, Texas. That night, his girlfriend asked him to hang out with her, but Miguel wanted to hang out with his brother. He was 15-years-old and his older brother Lupe Salazar, 17 at the time, remembers the moment vividly.
"I remember, he opened the door and was smiling and was like 'What's up dude?'" Salazar says. "I was rushing out the room, and he was like 'Where are you going?' Then I told him, 'I'm going' and he said 'Take me with you.'
"I told him no, but my girlfriend at the time – she was the one who pumped me up about taking him with me – she said, 'He's a cool kid, maybe he'll have fun.'"
Salazar told him to hurry up and Navarro ran back to his room to change. "I was ready to leave," Salazar says. "I'm waiting in the car, I'm beeping telling him to hurry up and he's running out the door."
When they arrived, Salazar found that the party was made up of older kids, many of them college-age. They were doing what college kids do: dancing, drinking, drugs. Salazar invited some more friends and when they arrived, things took a turn.
"I guess we weren't wanted at one point. We didn't even make it to the driveway," Salazar says. "Beer bottles flew in our direction and I was hearing tons of cuss words: 'F-ing Mexicans, F-ing this, F-ing that.' Off in the corner of my eye, I saw people with golf clubs and bats. And that's when a big brawl ended up happening."
Salazar says he tried to gather up his friends and leave. But it was too late – by then, a group of guys had surrounded him and started beating him.
"I felt that I was alone at one point," he says. "I had six or seven guys on top of me, and then I heard that somebody had gotten stabbed."
The police arrived. Salazar couldn't find his friends or his brother, but soon he heard the news: three people had been stabbed. One of them was dead. And they knew who had done it – his little brother Miguel.
When Navarro went to help his older brother, he says he pulled a out a knife. In the chaos, he stabbed Matthew Haltom.
"I did reach for my knife and I did it. I regret it, but I did it," Navarro says. "He got on top of me and was swinging. I don't know the man, never met him before. It happened. I stabbed him."
Navarro says other people jumped on top of him and he stabbed two of them also. Navarro spotted some friends of his brother in a car ready to drive off and got into the car with them. He had blood on his shoes.
Because it was dark and the street was crowded, few people had a clear perspective on what actually happened. For the most part, eyewitness testimony of the dozens of partygoers at the scene described a similar timeline: a party got out of hand, things got heated, Haltom and two others got stabbed.
One of the victims was treated by paramedics. Another victim, 21-year-old Joe Eodice, was in the hospital for about a week recovering from his injuries. Haltom, 20, died at the scene.
99 Years
The morning after the party, Navarro was arrested and charged with murder. Since his family was poor, he relied on a court-appointed defense attorney.
The prosecution wanted to try 15-year-old Navarro as an adult. Before a juvenile can be tried as an adult, the juvenile court must hold a hearing and certify a set of criteria laid out by the state. If the court decides that a juvenile can be tried as an adult, the judge then submits a waiver of jurisdiction – sometimes referred to as a transfer order – to waive the juvenile court's jurisdiction over the case and transfer the juvenile to an adult criminal court.
During Navarro's five-day hearing in Fort Bend County's juvenile court, administrators at Katy Junior High, where he went to school, took the stand. They testified that he read at a fourth-grade level but could do 12th-grade math. He had flunked twice. He skipped class and got into fights. A few months before the stabbing, a fight on the bus had landed him on probation.
During his certification hearing, Navarro's prosecutor, Fort Bend district attorney Tyra McCollum, said that the law says transferring a child to adult court is up to the judge's discretion. But in this case, the judge had no choice, McCollum said.
"I believe that justice says that transfer of this young man is, in fact, mandatory, not discretionary," McCollum told the judge. "It is mandatory because the facts surrounding this case suggest that there is no other remedy other than transfer."
The judge agreed with her and certified Navarro, then 16, to stand trial as an adult. With no chance to appeal, he was moved to county jail to await trial.
Navarro's defense attorney, Maggie Jaramillo, convinced him that a trial in the adult court was a good idea. Navarro still remembers his attorney telling him why:
"She told me, 'If we go to trial they are going to look at you as a child with these grown men and they are not going to convict you,'" Navarro says. "She was like, 'Think about it, are they gonna convict you?' And I'm like, 'I don't know. I don't know the law. I don't know nothing about the law.' And I bought it."
But the court didn't buy it. Navarro – tried as an adult – was found guilty of murder. Then, the judge sentenced Navarro: 99 years.
When he heard the jury hand down the sentence, Navarro says he was in shock.
"All I remember is when they told me 99," Navarro says, "I told my lawyer, 'This can't be legal.' And she said it's legal. And I was like, 'It can't be. ... I'd rather be dead.'"
"It's a Question of What's Easiest"
What happened to Navarro wasn't an anomaly – particularly when it comes to juveniles who are tried as adults in Texas.
The state changed laws outlining juvenile justice statutes in 1995. Harris County public defender Cheri Duncan says after those revisions, juvenile certifications – the process of a how a court determines if a juvenile should be considered an adult at trial – no longer had an automatic appeal. Kids who were certified had no way to change that decision until after their case was resolved in adult court. So with the stroke of a pen, a kid could be labeled an adult and face the penalties of the adult justice system, with no recourse.
These revisions to the juvenile code, Duncan says, prompted juvenile courts to move through certifications quickly. She says it's a function of two of the attitudes in juvenile courts across Texas back then. "The first is this tough-on-crime attitude that swept the country during the Reagan era, and we wanted to be tough even on kids committing crime. So 14-year-olds can be certified as adults in certain circumstances," she says. "The other is – I think it's a question of what's easiest. What costs less, how do we move those cases. It's a lot easier to have a form to fill out and move the kid on up the line."
Until very recently, the state made a habit of streamlining juvenile certifications. Some lawyers called the process rubber-stamping: fast-tracking the process of the pivotal decision that determines whether kids should be tried as adults, funneling them from juvenile court into criminal court.
In some counties, such as Harris County, the assessment was a one-page, fill-in-the-blank document – no individual consideration needed. From 1997 to 2007, about 93 percent of requested juvenile certifications were granted in Harris County. This statistic, justice reform advocates argue, is an example of an assembly line-style process.
Across the state, rubber-stamping could take a more subtle form. Rather than full hearings that allowed both sides to present a case, some juveniles had a single day in front of a judge. A prosecuting attorney may bring only a few witnesses against a defense attorney's long list of witnesses. Juvenile judges, in some cases, decided to certify a child based merely on the crime, rather than its circumstances.
Duncan says, in general, county prosecutors have little incentive to keep children in the juvenile system.
"It's somebody else's problem if it gets transferred to adult court," she says. "Prosecutors don't get rewarded for giving leniency, they just don't. ... So there's no incentive at all, really, aside from a person's own internal moral convictions as a prosecutor, to do the right thing."
On a statewide level, cases in which a juvenile is tried as an adult are hard to track. Each time a juvenile case is transferred to the adult courts, the paperwork starts over.
"When I got to looking for the last years I was able to get data for, the records I was given from Harris County Juvenile probation office did not match the number that was reported to the state," Duncan says. "We never were really able to figure out what happens or why that happens. ... Best estimates, we are talking about hundreds of cases a year across Texas."
Records obtained from the Texas Juvenile Justice Department show that 5,244 juveniles were certified as adults in Texas between 1995 and 2015 – an average of five cases a week for two decades.
The year Navarro was certified – 2008 – had the highest number of certifications in Texas in the last 15 years. That year, Navarro was among 277 juveniles who were certified statewide.
Not every child who stands trial as an adult is convicted, and each county keeps its own records of those cases. Those numbers aren't compiled in a single place, but Duncan says Navarro, now serving a long sentence that he may never have received in juvenile court, isn't alone.
"That's a whole lot of people who are serving time in the Texas Department of Criminal Justice," Duncan says, "whose cases may, honestly, never should have been certified in the first place."
Trying a Kid as an Adult
Going back over Navarro's case, it's easy to get the impression that it was somehow fast-tracked.
Juvenile court judges in Texas must weigh each of four factors in a certification: whether there's evidence the child committed the crime; the seriousness of the offense; the sophistication and maturity of the child; and the prospect of the child's rehabilitation.
Navarro's certification document is eight pages long, but gives no evidence from the five days of argument and testimony at his certification hearing. It affirms that the criteria were met, but offers no detail as to how or why. It contains scant information about the underlying crime itself, aside from an outline of the facts. As required by law, social and psychological evaluations were completed and given to the court, but no details from those documents were included in his certification.
Later, when the case went to trial, Matheson says the jury was never told about Navarro's theory of self-defense against multiple assailants, which could have factored into the verdict.
The juvenile judge didn't change the charges in the case from murder to involuntary manslaughter – which could be a self-defense situation – so when Miguel was transferred to adult court, the jury at his criminal trial wasn't asked to determine whether he was guilty of manslaughter or even whether he acted in self-defense. They were convened to judge Navarro's case based on the charges of first-degree murder and aggravated assault. Also, Navarro did not testify on his own behalf so the jury never heard from him during the murder trial.
Just before his 19th birthday, Navarro was transferred to the maximum security Connally Unit in Kenedy, Texas, to serve out his 99-year prison sentence. He was young enough, he says, that he didn't have any facial hair yet.
A Way Out
Navarro, now 24, is 5' 3'' and small-framed. When we speak to him, he's in handcuffs and ankle restraints. He's nervous and sweaty. His brown eyes well up with tears when we ask him about that night. To this day, he still doesn't know why he stabbed and killed Matthew Haltom.
Navarro knows he could have left the party, but he saw his brother getting beaten. Out of instinct, he says he went over to fend off his brother's attackers.
"I don't know, and there's no logical reason in my mind why I went," Navarro says. "It's my bro, it's all I can say. When I went, he was on the floor and they were kicking him. ... That's just one thing to this day that doesn't register. You can call it loyalty, you can call it a bond between my brother. I don't know."
In the early years of his sentence, Navarro says he kept his head down, visiting the law library during the day and reading case books in his cell at night. But prison life still weighs on him.
Most of his friends from the outside still haven't visited and often his family can't make the three-hour drive from Katy to Kenedy to see him. He says being in prison at such a young age sunk him into depression.
"You're young. You don't know what life consists of," Navarro says. "You don't know what life is gonna bring – especially in these type of environments. And you learn to hate everything."
Despite trying to keep to himself, Navarro's time in prison hasn't been without incident. In 2013, he filed a civil lawsuit. He says that on a cold January day, he asked the guards to shut a window. They refused, so he went to the guard's supervisor. He says the guards weren't happy and they beat him in retaliation.
Cases like this, in which prisoners represent themselves, often don't get far. They can be dismissed early on because the claim doesn't have merit or because of procedural technicalities. But Navarro represented himself for more than two years, and a few weeks before his case went to trial, he met his appointed counsel: Clayton Matheson, a San Antonio lawyer.
"I had never been in a prison before," Matheson says. "So dealing with that shock was the first thing I remember."
At the time Matheson was a young, inexperienced attorney, specializing in commercial litigation. But he wanted trial experience, so he volunteered to represent prisoners in civil cases. Matheson's first case was Navarro's.
"He was serving a 99-year sentence," Matheson says. "For a lot of people that would take away all sense of hope. Why would you even bother on a little lawsuit to try to vindicate your rights? But he was determined to do that. And it was inspiring."
They ended up losing Navarro's suit. It's not uncommon when prisoners attempt to sue guards, but Matheson took the loss hard.
"It was devastating," Matheson says. "We were hopeful to the moment the verdict was read – and I remember looking at him and I felt that I let him down."
After the lawsuit ended, Matheson stayed in contact with Navarro. And Navarro kept researching ways to appeal his original murder conviction. He looked up the criminal statutes concerning juveniles, which are outlined in the Texas Family Code.
"I had been researching 55.02, Family Code," Navarro says. "There's elements, factors that had to be met in order for them to certify you. It's a Moon case. Gave me hope."
A Moon case – as in Cameron Moon. He's another teenager in Texas who was tried as an adult and his conviction was at the heart of a landmark opinion from the state's highest criminal court, the Texas Court of Criminal Appeals. For Navarro, it offered a way out.
Last August, Navarro sent Matheson a letter about Moon:
"Would you look over it and tell me why my argument wouldn't work? ... I believe I found the key that should open the door for me to make it out sooner than expected."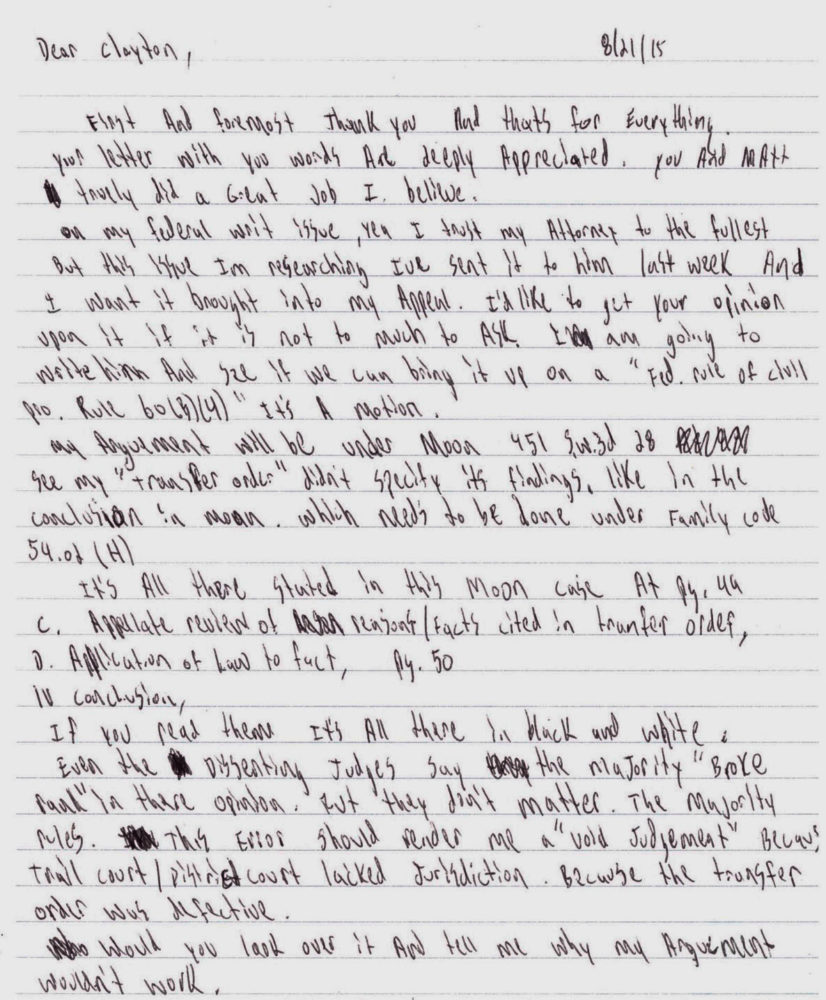 Moon v. State
In 2008, 16-year-old Cameron Moon shot and killed Christopher Seabreak, 20, in a drug deal gone awry. Moon was tried as an adult, convicted, and sentenced to 30 years in prison.
Appealing his conviction, his attorneys argued that Moon should never have been tried as an adult in the first place – that the courts needed to show a good reason why he was not able to be rehabilitated before they could send him to an adult prison.
In the end, the courts agreed. The case created a precedent, changing how the state views juveniles in the criminal justice system. The opinion stated that juvenile judges can't transfer children to criminal court "merely for the sake of judicial economy. ... Such a notion is the very antithesis of the kind of individualized assessment of the propriety of waiver of juvenile jurisdiction [expected] of the juvenile court in the exercise of its transfer discretion."
The Moon decision put state legislators into action. In 2015, they passed Senate Bill 888, a law that said juvenile defendants could appeal their certification before they went to trial as an adult. Going forward, kids who had been tried as adults would get a chance to repeal that decision before having to go through a full trial in criminal court, giving them the opportunity to stay in the juvenile system.
Michele Deitch, a professor with the Lyndon B. Johson School of Public Affairs at the University of Texas at Austin, specializes in criminal justice policy. She says the Moon case changed the playbook for juveniles in court.
"It is a very rare – and should be a very rare occurrence – to put a youth in the adult criminal justice system," Deitch says. "What Moon does is to better ensure that the system is in fact only allowing the most serious, and dangerous, and irredeemable youth to make it to that point in the system – where they are transferred to the adult court. And if that is to happen, it's making sure that there is a fair process that allows an appellate court to look at this and decide if a decision was fairly made."
Navarro had written Matheson to ask him to look over the Moon case but Matheson had never heard of it. Matheson wanted to look at the transfer orders from Moon's and Navarro's certifications side by side.
"I remember staring at the first paragraph and saying 'That's familiar,'" Matheson says. "Second paragraph: 'Ok, they are saying the same thing.' I'm sort of getting more and more excited as I went through the orders. By the end, I think I immediately got on the computer and emailed the team, said 'Guys, you have to read these two orders!' I attached the two orders – and lots of exclamation points."
One of the grounds for Navarro's appeal deals with the specific language from his certification, also known as a waiver of jurisdiction. In a memo to the court filed with his case, Navarro's lawyers lay out six passages from Moon's waiver that use much of the same language as the juvenile judge used in Navarro's waiver. Neither includes supporting information to back up the judge's conclusions.
In other words, the juvenile court didn't show its work by setting out sufficient evidence in Navarro's waiver. This notion of requiring the court to "show its work" is at the heart of the Moon decision. So the argument from Moon suggests Navarro shouldn't have been transferred to adult court at all.
Essentially, Navarro and his attorneys argue that the same thing that happened to Moon happened in his case: that he had been sped through the process to try him as an adult.
Forging Ahead
Trying Navarro's case at the state's highest criminal court means forging through uncharted waters, Matheson says. Navarro's case could be the first case heard at the Court of Criminal Appeals post-Moon.
When the Texas Court of Criminal Appeals vacated Moon's conviction in December 2014, Moon's case went back to the juvenile courts. Four months later, he was recertified as an adult and now his case is pending in Harris County court.
Only one juvenile certification appeals case has been decided post-Moon, in the lower courts: an armed robbery conviction of a 16-year-old, also in Harris County. The 14th Court of Appeals in Houston vacated that conviction as well, sending that case back to juvenile court. But no cases relating to Moon have reached the state's highest criminal court yet.
For now, it's a waiting game. The nine-person Court of Criminal Appeals received three volumes of court records for Navarro's case on September 12. Navarro's lawyers said his case was recommended for further review, clearing the first major hurdle to make its way in front of the court's judges. After a case is recommended for review, the court must then decide to hear it. Whether the court actually hears the case is a long shot – in the 2016 fiscal year, the court reviewed only about seven percent of those it was asked to grant further review.
Matheson says if the court hears the case and if they win, Navarro won't walk – at least not that day. But the court's decision will determine more than just what happens to Navarro.
"If the Court of Criminal Appeals finds, as we think it should, that those boilerplate forms are unconstitutional," Matheson says, "there would be, I suspect, hundreds, if not thousands, of people currently incarcerated, individuals in the Texas Department of Criminal Justice system, that would have an immediate right to challenge or appeal their convictions on the exact same grounds."
Attorneys are starting to see that what happened to Navarro didn't happen in a vacuum. Duncan says that in the last couple of months, the Harris County Public Defender's Office has been inundated with letters from people who were arrested as kids and tried as adults, asking if they can have their cases reviewed under the same precedent.
"Anything's Better Than 99 Years"
Even if Navarro is recertified and retried, he will be coming at his case as a different person – having grown from a 15-year-old kid with a fourth-grade reading level to a 24-year-old man helping mount his own legal defense.
Matheson says one of the most difficult conversations he's had with Navarro was this summer, after they officially filed their case at the Texas Court of Criminal Appeals. Navarro was convinced he'd be released if the court ruled in his favor. But a likelier scenario, Matheson says, is that his case would go back to the local courts – just as Cameron Moon's had. In that situation, the best outcome for Navarro may be taking a plea agreement. That could mean another 10 or 20 years in prison at least.
"It is what it is," Matheson says, sighing. "Anything's better than 99 years."
Navarro admits he's scared of the Court of Criminal Appeals denying to hear his case, because it'd be another setback and make odds even slimmer that he'd be able to get a lighter sentence. But Navarro's also scared of a denial because he won't be able to try his argument in court. If his argument doesn't work, he at least wants to know why. A denial won't give him that chance.
Navarro keeps several copies of filings from the Moon case in his cell, which he has reread dozens of times.
"It gives you hope," Navarro says. "The days that I get down, I read it and I try to figure out how are they going to tell me no or try to argue that it can't happen."
Navarro says mounting his own Moon case – and bringing it to lawyers committed to helping him – has also given him a glimmer of hope.
"It's like, you've had so much bad, you're expecting bad," he says. "It's pitch black out but there's a star."