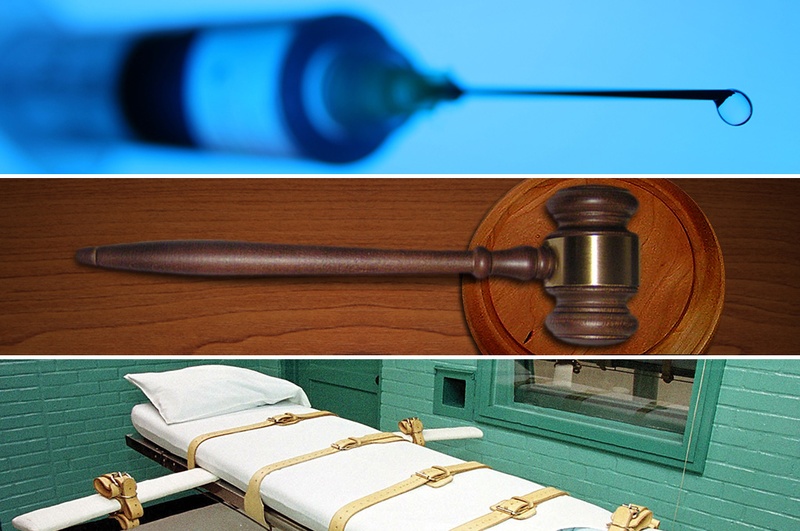 Texas — the state that has executed the most people by far since the death penalty was reinstated in the United States 40 years ago — had the nation's second-busiest death chamber this year for the first time since 2001. Georgia's nine executions in 2016 surpassed the Lone Star State's record-low number of seven.
The shift came in a year that saw several high-profile U.S. Supreme Court cases regarding the death penalty, fights over lethal injection drugs and a 25-year low in nationwide executions. Texas has seen decreasing numbers of new death sentences and executions in recent years.
"The death penalty landscape in Texas continues to change dramatically," said Kristin Houlé, executive director of the Texas Coalition to Abolish the Death Penalty, in the advocacy group's release of its annual report Thursday. "Prosecutors, juries, judges, and the public are subjecting our state's death penalty practices to unprecedented scrutiny and, in many cases, accepting alternatives to the ultimate punishment."
Only three death sentences were handed down by Texas juries in 2016 — all to black men, according to the anti-death penalty group's report. Another sentence was officially handed down this January after a competency review, but the group marked it as a 2015 sentence since the jury sentenced the man last year.
At its peak in 1999, the state had 48 new death sentences. The number dropped significantly after 2005, when life without parole became the alternative for jurors in death penalty trials, but the past two years dipped even more.
"Could it simply mean there are a lot less murders in Texas these last 15 years, so naturally the number of death-eligible defendants is way down as well?" said Robert Kepple, executive director of the Texas District and County Attorneys Association, in an earlier email. "That, coupled with life without parole option, means less death penalties."
Only one trial in Texas this year where prosecutors sought the death penalty resulted in the alternative sentence of life without parole, according to the annual report. Data from the Texas Department of Criminal Justice shows more than 40 others this year were convicted of capital murder and given the lesser sentence.
And while fewer new inmates shuffle into cells on death row, fewer are being shuffled out to be executed as well.
Since the U.S. Supreme Court reinstated the death penalty in 1976, Texas has executed 538 men and women, according to the Death Penalty Information Center. That's nearly five times as many as Oklahoma, which has the second most at 112. Georgia, this year's leader in executions, has 69.
This year, Texas' seven executions hit the lowest mark since 1996, when executions halted amid legal challenges to a new state law intended to hasten the death penalty appeals process.
The number would have been higher, but 12 people got relief when courts either delayed, halted or rescheduled their executions, the report said. Seven stays of execution were handed down by the Texas Court of Criminal Appeals, and one was given by a federal appellate court.
The U.S. Supreme Court took up a couple of Texas death penalty cases as well this year. Duane Buck and Bobby Moore brought their cases to the high court in search of getting new sentences. Buck's case focused on racist testimony in his trial, while Moore's touched on intellectual disability.
Though the death penalty may appear to be slowing, it is not gone. Nine executions have been scheduled in Texas for next year, according to the corrections department.
Read related Tribune coverage:
This article originally appeared in The Texas Tribune at https://www.texastribune.org/2016/12/15/unusual-year-death-penalty-texas-didnt-have-most-e/.