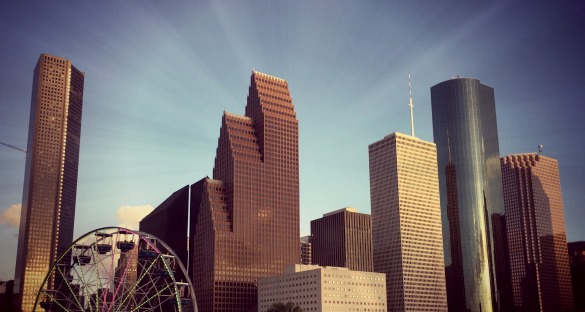 We all have little tricks to make our lives in Houston easier. Maybe yours include avoiding crowds by shopping for groceries during a Texans game. Or maybe you know a special shortcut around traffic.
On this edition of Houston Matters, we invite you to share your Houston life hacks and we hear some suggestions from two guests: Amber N. Ambrose, freelancer and regular contributor to HighDrive.TV, and Cort McMurray, frequent contributor to the Houston Chronicle's 'Gray Matters' column and president of Pelican Pool Service.
Also this hour…
Houston's Plan for The Future
In previous programs we've discussed Plan Houston, the first general plan the city has ever undertaken. The city has high hopes of using the plan to guide it for decades. Some of the plan's bullet points include broad aspirations such as having "a thriving local arts and creative community" and "a skilled and talented workforce." Then there are more concrete goals, such as maintaining "fiscally responsible, accountable, and responsive public services and civic investments" and to "maintain a long-range fiscal plan for the city."
So, now that these goals are on paper, how does the city bring them to life? We talk with Jennifer Ostlind from the City of Houston's Planning and Development Department.
The Good, The Bad, and The Ugly
A lot can happen in a week. Some of it good. Some of it bad. Some of it downright ugly. When faced with intriguing developments in the week's news, we turn to our rotating panel of "non-experts" to parse The Good, The Bad and The Ugly of it all.
On this edition, we discuss the new federal overtime rules that would have gone into effect yesterday were held up by Texas federal judge's temporary injunction last week, and Waller County's prohibition of guns in its courthouse buildings. This week's panel includes Vladimir Davidiuk, conservative writer and political analyst, Lisa Falkenberg, columnist for the Houston Chronicle, and Mary Flood, a blogger and legal consultant with Androvett Legal Media & Marketing.
Sneaker Summit
As far back as the 70's, from the basketball court to the barbershop, a question that often gets asked is, "Where did you get those sneakers?" On Dec. 4, Bayou City Event Center will host 250 exhibitors and 5,000 sneaker enthusiasts for H-Town Sneaker Summit. Bryan Angelle, Sneaker Summit's founder and creative director, explains the sneaker culture, what the latest styles will be, and why you won't find them in your average mall.
Houston Matters gets underway today at noon on 88.7FM or listen online. Join the discussion at 713-440-8870, talk@houstonmatters.org or @HoustonMatters.
We also offer a free daily, downloadable podcast here, on iTunes, Stitcher and various other podcasting apps.