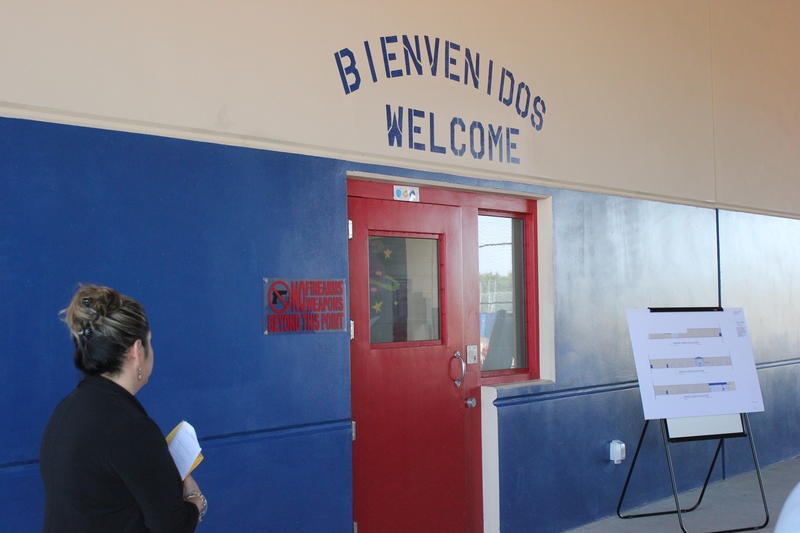 The Department of Homeland Security wants to keep using private prison contractors for immigrant detention. The Department's advisory council made that recommendation in a draft report released Thursday.
Back in August, DHS Secretary Jeh Johnson said his agency would review its reliance on for-profit companies to operate immigrant detention facilities–like the country's largest in Dilley. The review came after the Department of Justice announced it would be phasing out the use of private prisons.
"For the facilities that are currently operating, it means business as usual," says César Cuauhtémoc García Hernández, a University of Denver law professor and publisher of crimmigration.com. "For the private prison industry as a whole, it gives them reason to sigh in relief, because they were under fire."
Despite reports of human rights violations, Thursday's report means Texas facilities that detain Central American women and children seeking asylum in the United States will continue to be a cash cow for the private prison industry.
"Fiscal considerations, combined with the need for realistic capacity to handle sudden increases in detention, indicate that DHS's use of private for-profit detention will continue," the draft report says.
García Hernández says the recommendation shows just how entangled private companies are in immigration confinement practices.
"The report suggests that the most compelling reason to continue relying on private prison corporations is because the Department of Homeland Security currently does rely so heavily on private prison corporations," says García Hernández. "It's a somewhat circular argument that misses the point of Secretary of Homeland Security Johnson's task to the committee members which was to evaluate whether or not it is wise for the Department to do this."
In October, DHS renewed its contract with CoreCivic (formerly the Corrections Corporation of America) to operate the family immigrant detention center in Dilley—which houses up to 2,400 women and children.
CoreCivic reported $244.7 million in revenue from the South Texas facility in 2015, warning investors that "the loss of one or more such contracts could seriously harm our financial condition and results of operations."
Garcia-Hernandez says, even without today's report, the controversial immigrant detention practice seemed likely to continue or expand under Donald Trump.
Trump is expected to announce a new DHS Secretary soon. On Wednesday, current Secretary Jeh Johnson gave statements advocating for Texas Congressman Michael McCaul as his successor.
Copyright 2016 KSTX-FM. To see more, visit
KSTX-FM
.