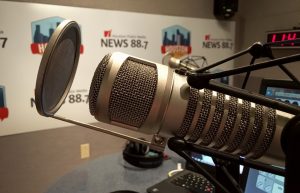 For the past decade, a local researcher has been working on a drug to prevent HIV, the virus that causes AIDS. Dr. Alessandro Grattoni, is an associate professor of nanomedicine at Houston Methodist. His research involves using a refillable implant that administers drugs to subjects at risk of HIV exposure. He's developed a prototype, and his research will eventually go aboard the International Space Station.
Dr. Grattoni will be honored at a World AIDS Day event on Thursday (Dec. 1, 2016). On this edition of Houston Matters, Grattoni tells us about his research and his work.
Also this hour…
Where is the Affordable Housing for the Rest of Us?
At the beginning of this month, Houston Business Journal reporter Paul Takahashi wrote that Houston has the fifth-largest number of affluent renters nationally. And while that might seem high, it's actually just 4.4 percent of all renters in Houston.
More than 50 percent of Houston housing consumers are in the middle- to lower-income market, making less than $50,000 a year. Many are "rent-burdened," which means they spend more than the recommended 30 percent of their income on rent. Beyond affordable housing in the sense of government agencies and nonprofit projects, where's the affordable housing for the rest of us?
Joining us to talk about this issue are three guests: Paul Takahashi of the Houston Business Journal, Paul Silverman, broker associate with Sotheby's International Realty, and Sam Radbil, senior communications manager with Abodo, an online apartment locator which recently released a report called Heavy Housing Burden.
Uncovered: Houston Author Leah Lax Discusses Leaving the Hasidic Faith
Houston writer Leah Lax has led an unconventional life. It includes nearly three decades as a Hasidic Jew in an arranged marriage she entered into when she was only 19. She and her husband moved to Houston, where she settled and became the mother of seven children. Over time, she had an awakening of sorts and rejected the life and world she knew.
She shares that journey with us, and in her memoir Uncovered: How I Left Hasidic Life and Finally Came Home. We revisit our conversation with her from March 2016.
The Surface of Things: Exhibit Highlights Images Made Without a Camera
A new exhibit at the Houston Center for Photography highlights photographic images that were made without a camera. The Surface of Things includes images from a dozen artists from around the world who manipulate light-sensitive materials or use unconventional methods of photographic capture to create evocative images. The exhibit runs Nov. 18, 2016 through Jan. 15, 2017.
The find out more, Michael Hagerty talked with Keliy Anderson-Staley, the Houston photographer who curated the exhibit. Listeners might remember her from an interview on Houston Matters in May 2014 about her work making tintypes.
Houston Matters offers a free daily, downloadable podcast here, on iTunes, Stitcher and various other podcasting apps.