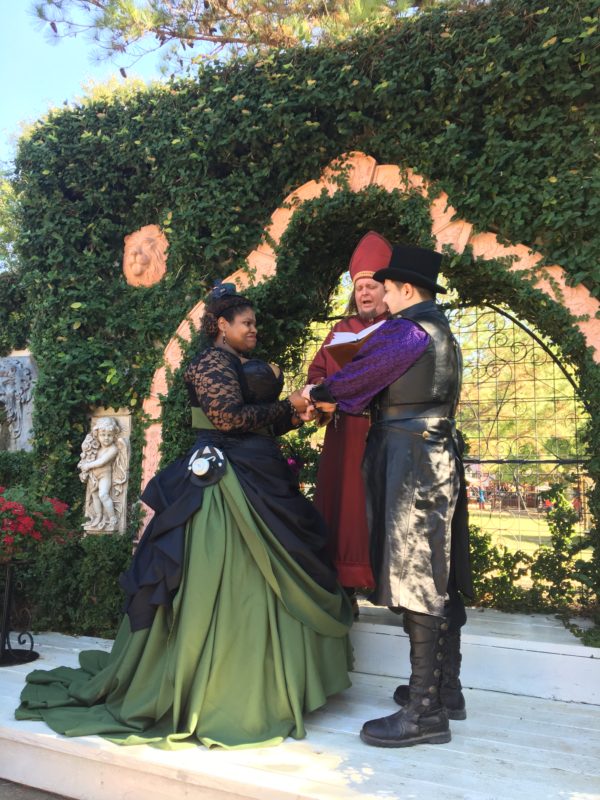 Karina Loren is quickly and carefully lacing up the front of her black satin corset, which fits snuggly over a sage green, Marie Antoinette-style gown with a plunging neckline. It's her wedding dress, which she'll wear to walk down the aisle in less than an hour. But it won't be in a church.
On a horse-drawn carriage, she and her fiancé Adam Sanders are being escorted through the tree-canopied grounds of the Texas Renaissance Festival. Sanders is dressed in Steampunk clothing – which is sort of like a cross between the Victorian era and a sci-fi movie, complete with black leather vest, top hat and boots. It's a bright Sunday morning and leading the way is a procession of knights, guardsmen, and various other people dressed in renaissance attire, while a bagpiper in a kilt plays Scotland the Brave.
More than five years ago, 33-year-old Loren and 29-year-old Sanders met through the online fantasy game, World of Warcraft, which has a similar theme to the Ren Fest. They saw the spot as a natural fit for their wedding.
"All the people that come to the festival are watching you and waving at you as you ride by," says Travis Bryant, the festival's marketing director. "And then you get to your venue and you can have trumpeters, a sword arch and all those romantic elements that you would imagine an English 16th-century wedding might carry with it."
But even though they all have similar elements, every wedding is unique in its own way. Just ask Loren.
"We're not big on the white wedding," she says. "I'm not a girly girl. So we were like, 'This is us.'"
It's a trend people in the wedding industry are noticing more among Gen-Xers and Millennials.
"As the years have gone by, offbeat, alternative and non-traditional weddings have kind of become run-of-the-mill in a way," says Catherine Clark, Senior Editor of Offbeat Bride, an online magazine all about unconventional weddings.
Clark says that since more people are also getting married later in life, they don't always have to rely on the bride's folks to pick up the bill and there's less of an obligation to go the traditional route. A bride can trade in the white dress for a leather corset. A groom can wear armor and a sword. Gradually, the non-mainstream is becoming normal.
"It's a theme that I think is becoming more and more accepted," Clark says. "So, it's less scary to say to your Grandma, 'We're going to have a fantasy wedding.'"
There's been a marked increase in the amount of people wanting to marry at the Texas Renaissance Festival. Five years ago, they hosted 28 weddings during the 8-week season. This year, there were 61. They'll generate more than a quarter of a million dollars for the festival.
So why have Ren Fest weddings become so popular? Some think it could be the popularity of fantasy TV shows like Game of Thrones and online games like World of Warcraft. Clark credits the trend to Gen-Xers and Millennials who want to live out their childhood fantasies.
"I think it might go back even further to the early 2000s, when Lord of the Rings came out," she says.
In the Texas Renaissance Festival's Rose Garden, John Adcock and George Vanderhey are wearing white shirts with black tuxedo bowties and matching kilts. Like so many others, they picked the spot for sentimental reasons.
"Whenever I proposed here, we proposed at the Magic Garden at the Fairy Throne," Vanderhey explains. "And then it was like, 'We're going to get married here.'"
Vanderhey and Adcock came in from Sulphur, Louisiana, and were the second same-sex couple to marry this season.
Their ceremony was attended by so many friends that the crowd overflowed outside the entrance of the ivy-covered cathedral.
"By the power vested in me, by the King and by the State, I now pronounce you husbands for life," bellowed the minister in an English accent. "You may kiss the groom."
Now in its 42nd year, the Texas Renaissance Festival is the largest Renaissance-themed park in the country. Closing weekend is November 25th – 27th.