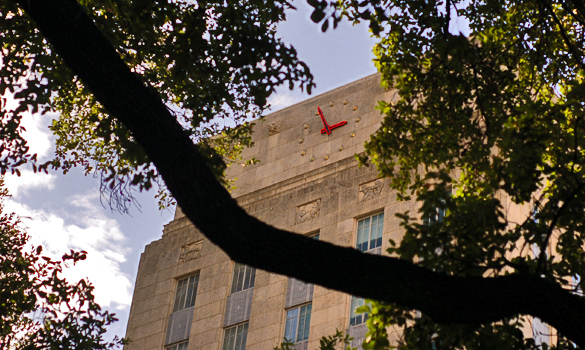 A couple of weeks ago, the Houston City Council passed a resolution of support for Mayor Sylvester Turner's proposal to reform the city's pensions system. As News 88.7 reported, the deal includes $2.5 billion in benefit reductions, changes to annual cost of living adjustments and increased employee contributions. Mayor Turner says the proposal will lower the city's costs, reducing the city's nearly $8 billion in unfunded pension liability by more than 30 percent.
The plan now heads to the Texas Legislature for approval. The legislative session starts in January. On this edition of Houston Matters, we examine who needs to buy into the City of Houston's pension plan for its best chances of being approved.
Also this hour…
Helping the Homeless — Or Sanitizing Things for the Super Bowl?
Addressing homelessness is an ongoing challenge in Greater Houston, but with the eyes of the nation on the Bayou City during the upcoming Super Bowl, are we likely to see increased attention paid to the city's homeless initiatives? We ask Eva Thibaudeau, director of programs for Houston's Coalition for the Homeless.
Where Healthcare Meets Religion and Spirituality
When you visit the doctor, you probably focus on getting answers to treat the specific, physical problem that's bothering you. And that's hard enough as it is. But what happens when a diagnosis might change your life – or even threaten it? Sometimes patients need more than just medical information, according to the Institute for Spirituality and Health at the Texas Medical Center. The nonprofit trains medical students and healthcare providers to be better prepared to handle human needs beyond specific treatments. We talk with representatives from the institute to learn more.
Unexpected Lessons from Dementia
An Amazing Place, a Houston center for adults with dementia and Alzheimer's Disease, has put together a book called Remembering What Matters: Stories from An Amazing Place Reveal the Unexpected Lessons of Dementia. We talk with author Suzy LaForge, the marketing director for Amazing Place.
Houston Matters offers a free daily, downloadable podcast here, on iTunes, Stitcher and various other podcasting apps.