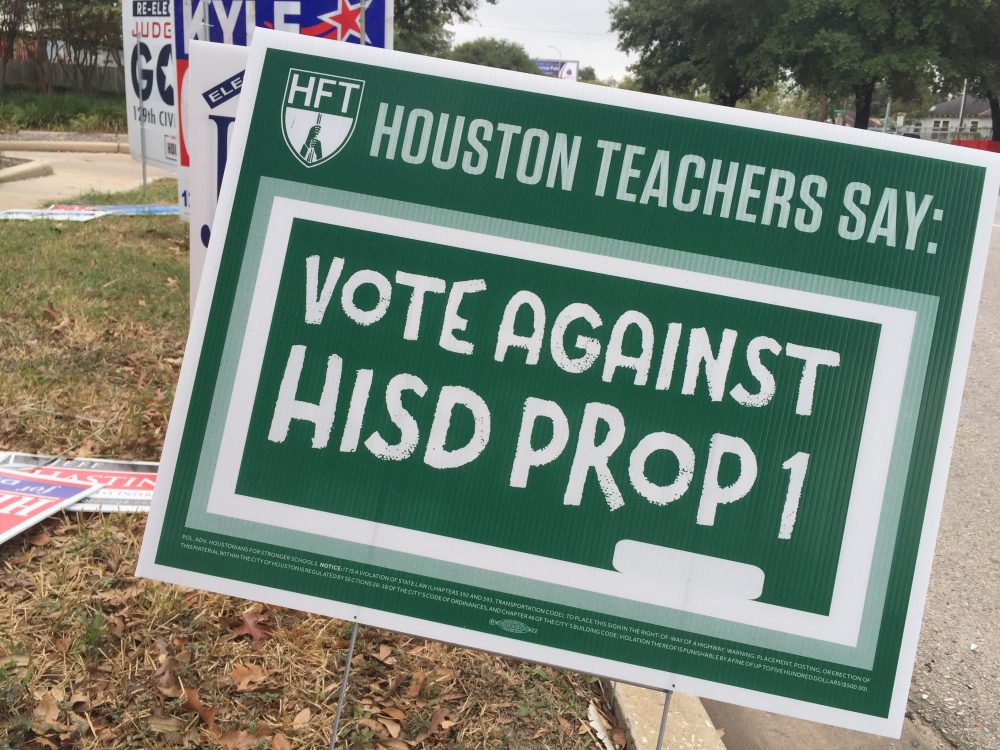 Voters defeated a controversial school finance measure on the ballot for the Houston Independent School District, known as Proposition 1, sending the state's largest school district into uncharted waters.
The measure asked HISD taxpayers if they would send a check to the state to help fund education, to the tune of $162 million next spring and in the form of "attendance tax credits."
With more than half of ballots counted, more than 60 percent of voters rejected the measure while just under 40 percent were in favor.
A powerful coalition lined up against the measure, including Houston Mayor Sylvester Turner, several HISD trustees and the Houston Federation of Teachers. A political action committee, Houstonians for Stronger Schools, waged an ad campaign and spent over $100,000.
"I am so proud of the people of Houston who voted against this measure with the understanding that this is just the first step in our fight for justice for the many students and families that depend on us," Turner said in a statement. "We need a realistic and effective public school education finance model that protects our local dollars and more importantly provides the resources necessary to enhance the opportunities for the students of the Houston Independent School District."
The defeat triggers an unprecedented situation.
Technically, state law still requires HISD to share some of its money – just another way. It allows the state's Education Commissioner to detach valuable commercial property from HISD's tax base and let another, property-poor district tax it instead. No other school district in the state has rejected this kind of school finance measure before.
Opponents, like Turner, argued that the payment to the state would take money away from needy children in Houston and a "no" vote could force the Texas Legislature to reform the state's complicated school finance system.
"Today is a win for our schools, students and the community, but the fight is not over," said HISD Trustee Jolanda Jones in a statement. "We must now lobby the Texas Legislature to ensure that HISD has the appropriate level of funding to create opportunities for all of our students."
It's not clear, however, if state lawmakers will take up school finance reform. Lt. Gov. Dan Patrick, a Houston-area Republican who also leads the state senate, has mentioned lawmakers need a special session to address school finance, because there's not enough time in the 140-day regular session. Gov. Greg Abbott, also a Republican, publicly rejected that idea, saying a special session on education isn't needed.
The HISD board of trustees put the proposition on the ballot because the state's largest school district now qualifies as a property-wealthy district, even if the majority of its students come from low-income households. It has to share some of its property tax revenue under the state's Robin Hood plan, also known as recapture. It's meant to equalize wealth among rich and poor school districts, who largely depend on property-tax revenue to pay for schools.