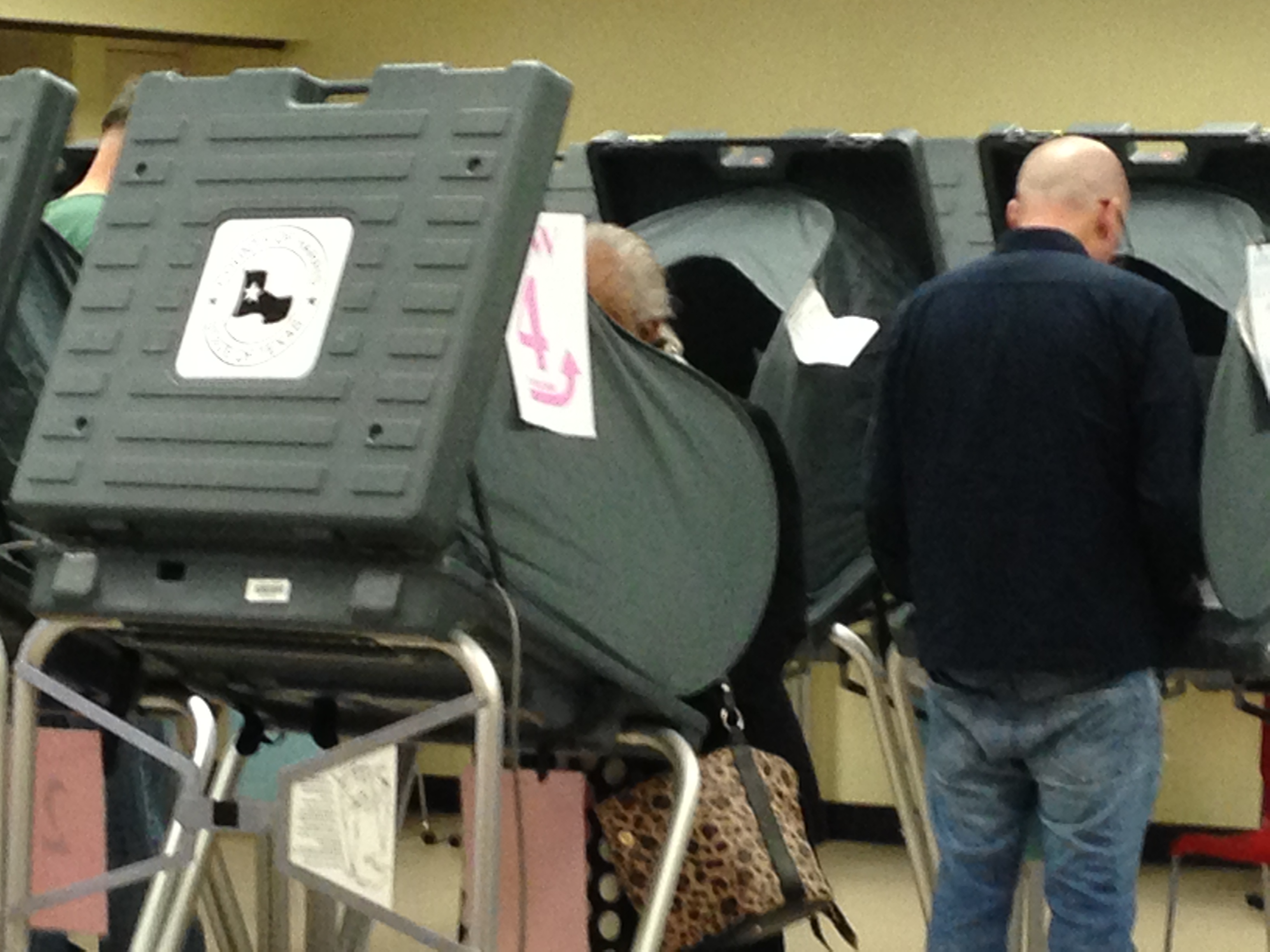 Election Day is finally here. News 88.7 is providing a crash course on what you should keep in mind as you cast your ballot today.
Interview Highlights:
How do people find where they can vote?
"Unlike early voting, where you could vote at any one of several polling stations around your county, on Election Day, you must vote at the polling station for the district in which you live. Your voter registration card lists your precinct number, and you can use that or your home address to find the address of your polling station, either from county election officials or the Texas Secretary of State's website."
How long do people have to vote?
"Polls are open from 7 a.m. to 7 p.m. Everyone who's in line to vote by 7 p.m. will be allowed to cast a ballot. However, lines are expected to be long, so you don't want to wait 'till the last hour if you can avoid it."
Can people get time off from work to vote?
"Yes. Unless an employee has at least two consecutive hours to vote outside of working hours, Texas state law requires his or her employer provide paid time off to vote."
What do you need to bring with you?
"You do need to bring one of seven approved forms of photo ID if you have it. That can be either current or expired within the past four years. If you own one of these but forget to bring it with you, you can vote provisionally. You have to fill out an affidavit, and then you have six days after the election to bring your ID to a voter registrar to confirm your vote. If you don't have one of the seven approved forms of photo ID, and there is a reasonable impediment to your obtaining one, you can still vote in this election. You'll need to fill out and sign a 'Voter's Declaration of Reasonable Impediment or Difficulty' form. You'll also have to present one of several alternative forms of identification, such as a certified birth certificate, a bank statement, a government check, a paycheck, or a utility bill."
What are you not allowed to do at the polls?
"At any polling place, you are going to see signs saying, 'No electioneering within 100 feet of the polls.' That includes clothing, headgear, and buttons with the candidates' names, party names, and recognizable symbols or slogans. If you've got a pin with Hillary Clinton's 'H and Arrow' logo or a red baseball cap with Donald Trump's slogan, 'Make America Great Again,' leave them in your car. Texas law also forbids photography and electronic recording equipment within 100 feet of the polls. That means no taking selfies at the voting booth. Finally, federal law bans voter intimidation. If you start asking people in line with you or out in the parking lot if they're allowed to vote or if they're citizens, that's a felony.
This is the first election in which Open Carry is effect in Texas. How does that apply?
"Texas law still forbids carrying firearms within 100 feet of the polls, even under Open Carry. Outside that 100-foot range, you are allowed, and the ordinary rules for carrying firearms apply."
"Each county in Texas has its own system. Harris County, for example, uses the eSlate electronic voting system, which has no paper backup. Once you've presented your photo ID, your alternative ID, or filled out your affidavit, a poll worker will hand you a slip with a four-digit ballot access code. You can then use any open voting booth. The booth has a select wheel that allows you to highlight different choices on the screen. First, you select your language, then input your access code. You hit enter. The select wheel then allows you to move the highlighted bars through your choices. You can either vote a straight ticket or race by race. Once you hit 'Enter,' the highlight will move to the next choice. If you make a mistake or change your mind, you can go back and change your selection. Once you've gone through the entire ballot, the screen will present you with a list of all your choices. Look carefully. If you need to make a correction, or if there's a contest you've missed, you can correct it now. When you're finished, click the red 'Cast Ballot' button, and you're done."
How can voters report problems?
"Typical problems at any polling station are going to include long lines or malfunctioning machines. Election judges and poll workers can usually address those. For more serious problems – for example, poll workers giving incorrect information or refusing to allow someone to vote who is legally allowed, or voter intimidation – you can report those to county election officials. You can contact the Texas Secretary of State. Or you can contact nonprofit groups, such as the Election Protection coalition, which are monitoring the election and can provide legal assistance."