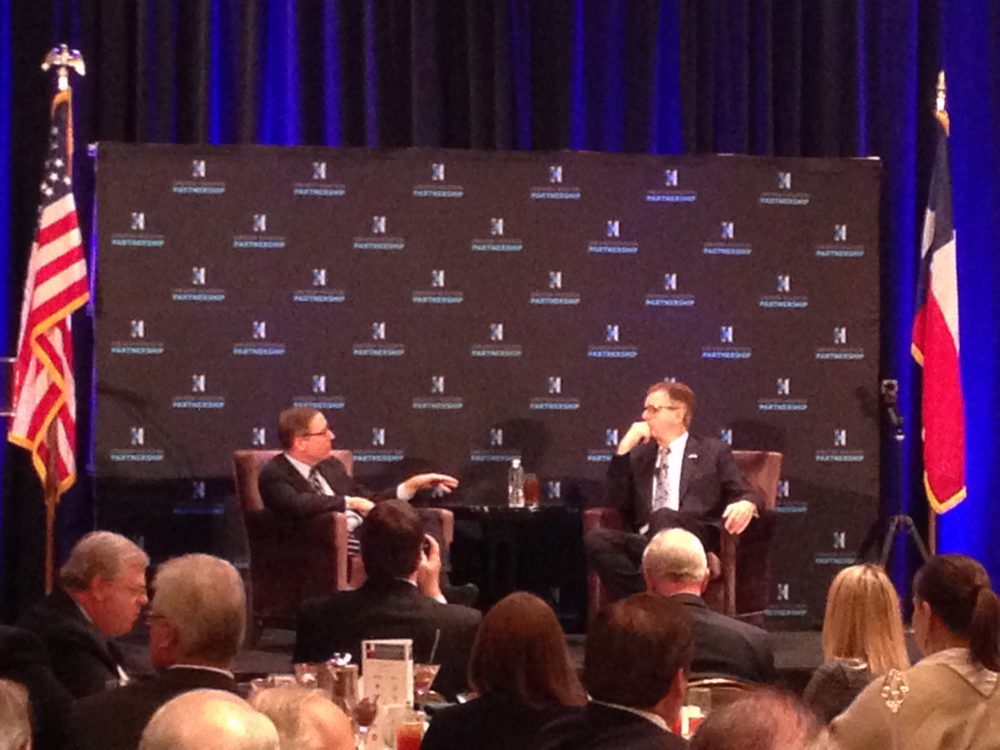 Texas Lt. Gov. Dan Patrick was in Houston this week to take part in an event about the upcoming session of the 85th Texas Legislature.
The event was a conversation between Patrick and Evan Smith, CEO and co-founder of the Texas Tribune, organized by the Greater Houston Partnership.
Lowering property taxes is one of the topics at the top of the lieutenant governor's wish list because, he noted, "we are running people who've lived in their homes and their neighborhoods for 20, 30, 40 or 50 years."
"Maybe people in the suburbs or maybe people in River Oaks or Memorial can afford to pay it, they may not like it. But people in the inner city are losing their homes and where do they go?" Patrick added.
Patrick also touched on school finance and he underscored Texas needs to reform its public education system.
"If we don't improve our schools in the inner city, we are going to have a have and a have not population, and where you have no hope for a job there can be anger. I think we see it. You can't live the American dream without a quality job and you can't have a quality job without a quality education and you can't get an education without a quality school," he said.
Asked about whether he would call for a special session of the Legislature to work on school finance, Patrick answered he is not doing that at this time.
However, he added it is a very complex topic and a regular session wouldn't be enough to undertake a complete overhaul of the system.
Patrick also emphasized the Affordable Care Act should be repealed and he said the federal government must give the states more discretion on health care.
Patrick anticipates the legislative session will also deal with some contentious issues, but he expressed his hope that compromise between Republicans and Democrats will ultimately be productive.
"I'm sure we're going to have a fight over sanctuary cities and a fight over photo voter ID on the floor, maybe a few other things," he stated. "But, at the end of the day, 98 percent of the bills will come together, make the right decision."
Several elected officials attended the event, including Houston City Council Member Dave Martin.
He noted the most urgent topic from the perspective of City Hall is for the Legislature to pass its pension reform bill because "every day our unfunded liability continues to grow."
"The sooner we get this done, the sooner we can get that off our books, issue the pension obligation bonds and move down the road to 30 years of paying off the debt and after that our kids and grand kids can live forever without having any debt in the city," Martin added.
Patrick also chairs Donald Trump's campaign in Texas and said he is confident the Republican presidential nominee will win the state.