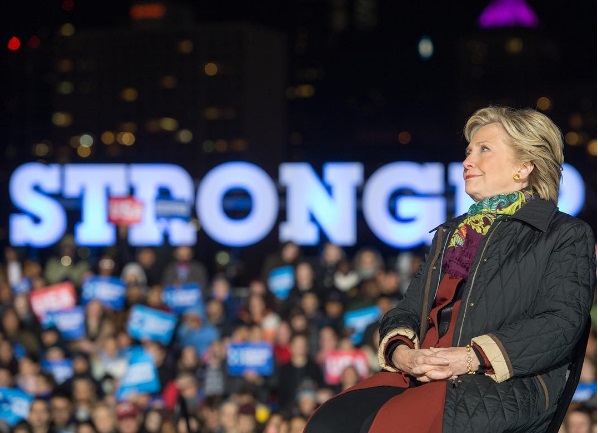 It's no surprise that Hillary Clinton hasn't gambled much on Texas, a state no Democratic presidential candidate has won in 40 years. What's surprising is the scare she's giving Republicans anyway.
Growing talk over whether Texas is truly in jeopardy for Donald Trump has become another distress signal for the billionaire's campaign, which is already fighting to hang onto Utah and Arizona, two other typically reliable GOP strongholds.
Clinton is pouring millions of dollars into television ads in Arizona; Trump's running mate, Indiana Gov. Mike Pence, campaigned this week in Salt Lake City. Such dead giveaways of a competitive race are harder to spot in Texas, but narrowing public opinion polls have made Republicans anxious as early voting numbers surge to record levels.
Republican Texas
Gov. Greg Abbott
wasted no time addressing the elephant in the room at a small rally in Houston days ago.
"Texas is being tested by Hillary Clinton," Abbott said. He went on to fire up supporters for 10 minutes without once mentioning Trump's name.
A Democrat hasn't won Texas in a presidential race since Jimmy Carter in 1976, and Democratic nominees have been trounced by double digits the last four times. Barack Obama lost Texas by 12 percentage points in 2008 and 16 in 2012.
But Trump's struggles and soured Republican voters have long-suffering Texas Democrats now daring to dream what seemed unimaginable only a few months ago. Texas' 38 electoral votes are a must for a Republican presidential nominee in any election year, to say nothing of Trump, whose razor-thin path to victory makes Florida a must-win even though Clinton can prevail without it.
"I believe the race is competitive," said Austin-based Republican consultant Brendan Steinhauser, who ran Texas Sen. John Cornyn's last re-election campaign. "Rural Texans go for Trump. But the suburbs are going to be a potential huge problem for him."
Whether Clinton really does have an opening in Texas, there's no doubt enthusiasm is high. The first two days of early voting were up 49 percent in the biggest counties compared with 2012.
But there are few signs of Trump becoming defensive enough in Texas to spend much time or money to protect that GOP turf. Likewise, Clinton isn't pulling out the stops for an upset.
Clinton caused a stir in Texas this month by buying airtime for commercials — something Obama never bothered doing in the state this close to Election Day, Nov. 8. But federal disclosures show only a handful of spots in Houston and Dallas, where it would take millions of dollars to saturate airwaves. Meantime she's spent $2 million on television advertising in Arizona and sent first lady Michelle Obama there to campaign for her.
"We look at everything with clear eyes," said Manny Garcia, deputy executive director of the Texas Democratic Party. "We know how hard it is to change this state." He said he understands the enthusiasm from Democrats hoping to see Texas flip, an achievement that would rock the political world. "When you see that moment in Texas," he said, "it's game over, nationally."
Talk of Texas being in play comes just two years after Abbott and a ticket of brash tea party candidates in statewide races humiliated Democrats. One such Democrat was Wendy Davis, who lost her run for governor by 20 points despite a national fundraising apparatus and a campaign co-piloted by the architects of Obama's re-election.
Stacey Mendoza, a 50-year-old homemaker in the Houston suburb of Katy, left Abbott's rally unfazed by Democrats who think they have a chance this time. But as she carried out a new Trump sign to put outside her house, she said Republicans need to push back in Texas, even though a Democrat hasn't even won a statewide office since 1994.
"I've heard some people don't want to put Trump signs in their yards," she said. "I'm not afraid." She added: "I pray about it, too. I'm a believer."
On the other end of Houston, James Smith left an early voting site at a supermarket believing Clinton can carry Texas. "It'll show everyone that anything can happen," he said.