Special agents with the Department of Public Safety are being used to locate an estimated 2,800 children who have been deemed by the state as at high-risk for abuse. The DPS began assisting Child Protective Services in their efforts following a fiery meeting at the state capitol and a legislative ultimatum.
As heard on Texas Public Radio
Patrick Crimmins with the Texas Department of Family and Protective Services, the group who oversees CPS has confirmed that fewer than two dozen DPS special agents are working in Houston, Dallas and San Antonio, going door-to-door to find these kids, taking a picture on their phone, and sending it to a CPS caseworker.
"I mean it's kind of a welfare check kind of thing is what it is for the most part, but it is on a very limited basis, it's only going to be Dallas, Houston and San Antonio," Crimmins explains.
Crimmins says DPS special agents are just there to "put eyes" on these children and lack the necessary jurisdiction to investigate children's claims of abuse at this level unless they believe a crime has occurred.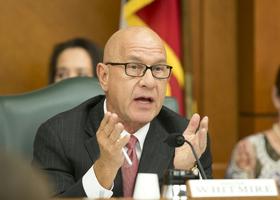 The emergency relief follows a tense hearing at the state capitol on Wednesday where senate lawmakers like Houston State Senator John Whitmire demanded the new head of CPS, Hank Whitman, take immediate action to find these at-risk children that no caseworker has seen in months.
"Excuse me, you just said that they haven't been seen, well hell they may die before you get there," Whitmire told Whitman.
Kate Murphy with the non-profit Texans Care For Children calls the effort a temporary fix of a much bigger problem because even after DPS special agents have located these children an individual CPS caseworker still has to conduct a follow-up visit with hundreds of families.
"I think we need to start working right away with some real fixes to investigations, including hiring more caseworkers for investigations and paying higher salaries to stop turnover," Murphy says.
The head of CPS has requested the legislature allow his agency to hire an additional 550 caseworkers before the start of the 2017 legislative session.
State lawmakers have demanded the head of Child Protective Services turn over his plan for turning the agency around by the end of Thursday.
Copyright 2016 KSTX-FM. To see more, visit
KSTX-FM
.
Subscribe to Today in Houston
Fill out the form below to subscribe our new daily editorial newsletter from the HPM Newsroom.