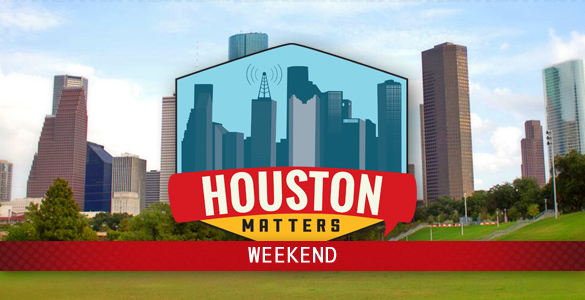 The NFL is working to curb domestic violence by partnering with an organization called A Call to Men, which teaches "healthy, respectful manhood."
The group's CEO, Tony Porter, and Troy Vincent, a former NFL player and the league's executive vice president, are in town to talk about the program. On this edition of Houston Matters Weekend, they talk with Paige Phelps about their efforts.
Also this hour…
How the Passing Game Reinvented Modern Football
The modern football game is filled with high-octane offense built around quarterbacks efficiently passing the ball, often deep down field. But that's a relatively new phenomenon in the more than century-old history of football.
Author and journalist SC Gwynne attributes this modern transformation to two Texas college football coaches: Hal Mumme and Mike Leach, both of whom he writes about it in his latest book, The Perfect Pass: American Genius and the Reinvention of Football. Gwynne is a long-time writer for Texas Monthy and has written books such as the Pulitzer-Prize nominated Empire of the Summer Moon.
Lesser-Known History of the Texas Revolution
Wednesday March 2, 2016 was the 180th anniversary of the signing of the Texas Declaration of Independence from Mexico in 1836 at Washington-on-the-Brazos. San Jacinto College history professor Eddie Weller tells us how the Lone Star State got to that point in the first place — and some things you might not have known about the revolution.
Houston's Unsung Contributions to the Music World
Finally, when you think of influential cities for jazz, country or blues, you might think about New Orleans, Nashville, Memphis or Chicago. But what about Houston? A conference held Sept. 30, 2016 called The History of Houston's Musical Soul at the MATCH aimed to educate the public on – and celebrate – the Bayou City's contributions to the American musical landscape.
The event, from the Houston History Alliance, features a film screening, numerous speakers and musical performances. Two of those speakers were music biographer Joe Nick Patoski and music historian Roger Wood, who tell Michael Hagerty about the often forgotten history of Houston music.
Houston Matters Weekend airs every Saturday at 1 p.m. on News 88.7. If you have questions or comments about something you hear, e-mail us at talk@houstonmatters.org. | News 88.7 Program Lineup