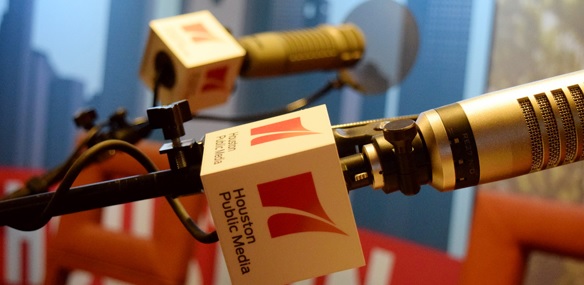 Over the next year, Houston Public Media is engaged in an initiative we're calling Diverse City. We will examine a wide range of challenges and opportunities facing Greater Houston, a region which often celebrates its place as the most diverse city in America, but still faces many of the challenges we find nationwide in bringing Americans together, regardless of race, ethnicity, religion, gender, sexuality, or any of the other many distinctions that can sometimes divide us — but often make us a stronger place to live.
As part of this Diverse City initiative, Houston Matters will host a town hall next month exploring the relationship between the black community and law enforcement. Today, and in the coming weeks leading up to our town hall, we're going to talk with people who have a variety of perspectives on this relationship.
On this edition of Houston Matters, we talk with Karlton Harris, who has viewed this, at times, tenuous relationship from both the perspective of a drug dealing gang member in his youth, and an ex-convict and minister who has, for years, helped others navigate a more successful path in life after they serve their time. He's a member of Mayor Sylvester Turner's MBK task force, or "My Brother's Keeper" task force, part of an initiative developed back in 2014 by the Obama Administration, which is focused on helping young black men stay on the straight and narrow throughout probation. He's also the founder of the Katy-based Re-Entry Consultants of America, and Karlton Harris Ministries.
Also this hour:
Revisiting the Impact of Low Oil Prices on Greater Houston
To say that the oil and gas industry has an impact on Greater Houston would be a profound understatement. While our community is more economically diversified than it was during the oil bust of the 1980's, we still feel the effects when portions of such a significant industry struggle. The low oil prices of the last two years have certainly had an impact on the many thousands of people laid off by oil and gas producers. But the latest thinking is that even these long-sustained low oil prices have not had nearly the lasting impact on the region that they could have, if Houston was still strictly and solely an oil town. During this fundraising week, we're looking back at stories and issues we've felt compelled to cover routinely and in-depth over the last year, and today we review what we've learned about the impact low oil prices have had on the region.
A Look At Bilingual Education in Houston
The Texas Association for Bilingual Education is hosting its annual conference this week (Oct. 19-22) in Galveston. TABE's mission is to promote the implementation of educational policies and effective bilingual-bi-cultural programs that promote equal educational opportunity for bilingual and ESL students. It's the largest bilingual education conference in Texas, and organizers expect more than 1,500 bilingual/ESL educators and administrators to attend.
We talk with TABE's executive director, Maria Guadalupe Arreguin-Anderson, about how bilingual programs have changed in Houston and across Texas and what programs she'd like to see more of in Houston-area schools.
Houston Matters offers a free daily, downloadable podcast here, on iTunes, Stitcher and various other podcasting apps.