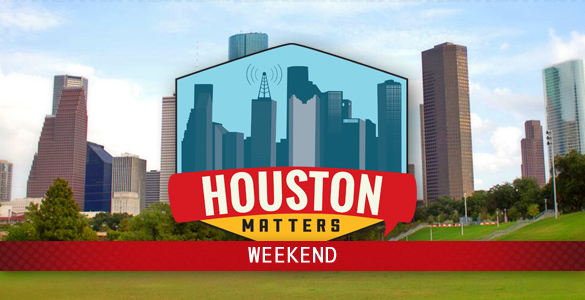 Almost like a drumbeat, Houstonians know – and love to repeat – the notion that we are the "most diverse city in America." And Dr. Stephen Klineberg, co-founder of the Kinder Institute for Urban Research at Rice University, says that's correct. And that might be enough to give Houstonians with civic pride a case of the diversity warm-fuzzies. But...something's missing. Are those diverse populations as diversely interspersed throughout Greater Houston? Despite its diversity, is Houston in fact segregated by race? Or is it segregated by some other factor?
On this edition of Houston Matters Weekend, Dr. Klineberg explains to Paige Phelps that, to find a good example of how Greater Houston deals with diversity, you need to look outside Harris County all together at nearby Ft. Bend County.
Also this hour…
What Opiate Recovery Looks Like For Former NFL QB Ryan Leaf
Ryan Leaf was a quarterback in the NFL for four seasons. He played with a handful of teams, including the Seattle Seahawks, the San Diego Chargers and the Dallas Cowboys, but his short career was plagued with injuries and self-described bad-behavior. Leaf wasn't long out of the game before he was introduced to opiates, and this quickly spiraled into a drug addiction that took over his life. It lead him down the path of doctor shopping to ask for pills and later breaking and entering into homes where he grew up in Montana to get access to any type of opiate. That was the behavior that landed him in prison.
Now, he's a spokesperson for Transcend, a recovery community that helped get him back on his feet after he served his prison sentence. Transcend set up an office in Houston earlier this year and invited Leaf to come and share his story. Houston Matters producer Edel Howlin chatted with Leaf and Joni Ogle, the executive director of Transcend Texas.
Is Houston Really a Better Place for Cancer Treatment?
Part of the narrative of Greater Houston is that it's a good place to be if you should have to contend with cancer. We not only have the Texas Medical Center here, but we're the home of MD Anderson Cancer Center. So, clearly, if you're going to have to have cancer in Texas, this is the place to be. Except, a new report suggests, no, it's not. Or at least, it's no better or worse than anywhere else for particular cancers among the elderly.
To tell us more about the research, we hear from Vivian Ho, chair in health economics at Rice University's Baker Institute for Public Policy and director of the institute's Center for Health and Biosciences.
Houston Singer Cameron Dezen Hammon Re-Envisions Iconic '80s Songs
On her 2016 album Words Don't Bleed, Houston-based singer-songwriter Cameron Dezen Hammon chose to record cover versions of songs by male artists and inhabit them from a female perspective. With the exception of one song, every other track on the album was originally released in the '80s. She tackles Top 40 fare by Don Henley, George Michael and Bruce Springsteen, as well as post-punk/new-wave material by The Cure, Morrissey and New Order.
While none of Hammon's versions are straight-ahead covers of the original songs, some follow the originals closer than others, and Hammon even deviates wildly from certain originals, changing chord structure and rearranging lyrical passages. Hammon, along with cellist Aimee Norris and guitarist Jimmy Cardoza, recently visited Houston Public Media's Geary Performance Studio to record an edition of Skyline Sessions.
Houston Matters Weekend airs every Saturday at 1 p.m. on News 88.7. If you have questions or comments about something you hear, e-mail us at talk@houstonmatters.org. | News 88.7 Program Lineup