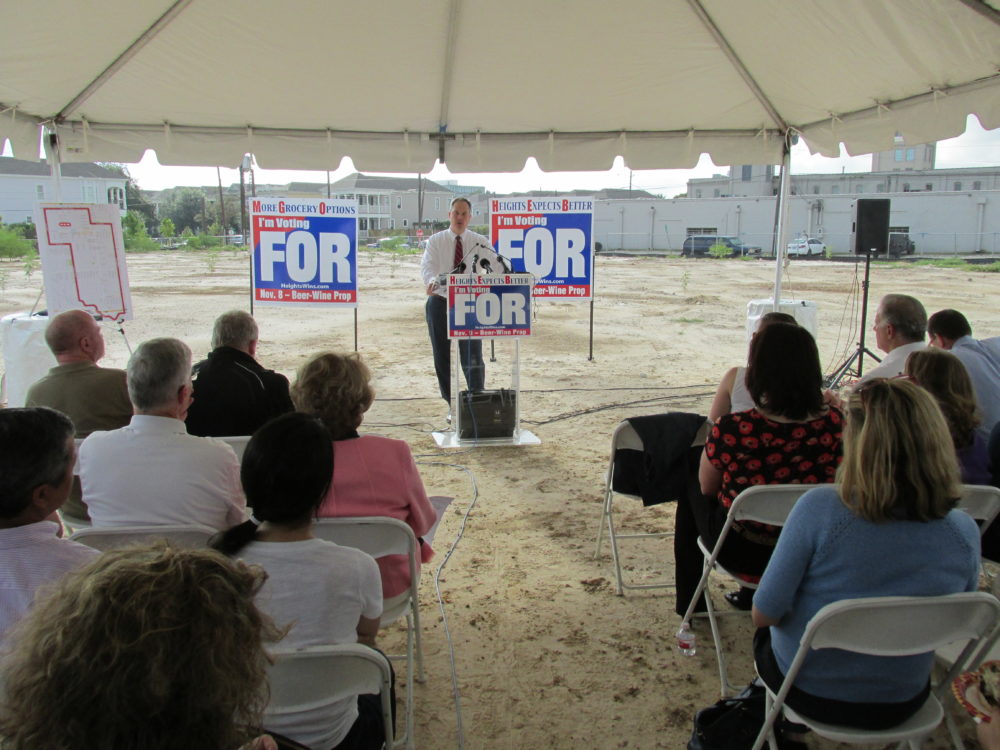 If you live between West 27th Street, White Oak Bayou, Dian and Gostick streets in the Heights, you can't buy alcohol in your neighborhood.
That's thanks to an ordinance from 1912.
In August, the City Council voted to place a referendum on the ballot to lift the ban on the sale of beer and wine for off-premise consumption.
Steve Reilley leads the Houston Heights Beverage Coalition, which collected more than 1,700 signatures on a petition to overturn the ban. He, together with city council members and representatives from the retail industry, kicked off the official campaign for a yes vote.
They'll have to convince at least half of the estimated 10,500 voters who live here.
Considering there is no organized opposition, this sounds like an easy task but Reilley says they're not taking it for granted.
"In Houston/Harris County, a November ballot in a presidential year is very, very, very long," he says. "And so this one is literally going to be the last thing, the bottom of the ballot on that November ballot, so we have to get the word out."
He says there's also some misinformation about what the ordinance would do. It doesn't repeal the original law that established the ban but merely allows for beer and wine to be sold in stores.
It's something grocers like HEB would benefit from.
The grocery store chain has been negotiating a lease for a 4-acre property on North Shepherd Street. But HEB's Houston president Scott McClelland says a lifting on the ban is crucial for them to move forward.
"It's tough when both beer and wine are such big sellers and so important to our overall success of a store," he says. "So we're counting on this vote passing."
Some concerns that have been raised about the change include that it could attract homeless people to loiter outside stores and that it would invite more unwanted new development in the historic area.
If the referendum passes, nothing changes for restaurants or bars in the area. They will still have to circumvent the law by signing customers up for private drinking clubs if they want to sell alcohol to them.
To see a map of the Heights' "dry" area, go here.