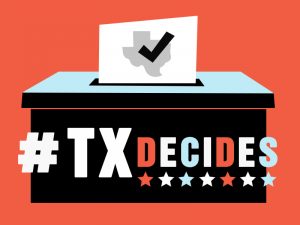 The November election is just over a month away, and early voting starts in less than a month. In these final weeks, we've been devoting time to two key races in Harris County, for Sheriff and District Attorney, and offering you a chance to talk directly with candidates vying for your vote. On today's edition of Houston Matters, we welcome your questions for Harris County Sheriff Ron Hickman.
Also this hour…
Sorting Through the Numerous Judicial Elections
This election year, 40 individuals in the Houston area — and many more statewide — are running for various judicial seats, from the State Supreme Court to Justice of the Peace. That means voters might find themselves standing in a voting booth with just as many questions about who to pick for these seats — especially if they're in a profession that doesn't involve setting foot in a courtroom.
That's one of the reasons the Houston Association of Women Attorneys publishes its list of judicial picks, a non-partisan guide to the judicial elections with an endorsement in each race. The guide is the result of an extensive screening process that involves interviews with the candidates and a vote by the membership body. To learn more about how the process works, we talk with Charlotte MacVane, an attorney and board member of the AWA.
Domestic Violence and the NFL
And we learn about efforts by the NFL to curb domestic violence. Troy Vincent, the league's executive vice president is in town to talk about the program and he — along with Tony Porter of the group A Call to Men — joins Paige Phelps to talk about their efforts.
Houston Matters offers a free daily, downloadable podcast here, on iTunes, Stitcher and various other podcasting apps.