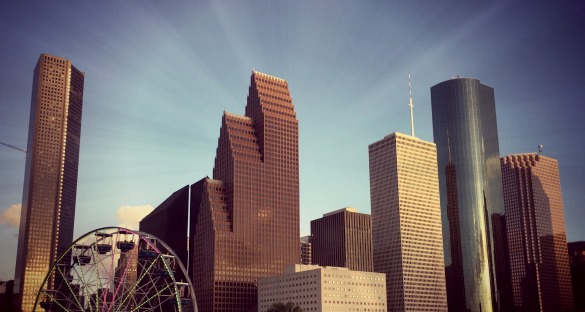 Recently (Sept. 20, 2016), Shell Oil announced plans to vacate most of its downtown offices. Thousands of employees are expected to move to the company's Woodcreek Complex on I-10 and North Dairy Ashford and to the Shell Technology Center on State Highway 6. The move is planned for the first quarter of 2017.
On this edition of Houston Matters, we learn why companies like Shell are making this kind of move and discuss the impact on downtown with two guests: Bob Eury, president of Central Houston and executive director of the Downtown District, and Loren Steffy, managing director for 30 Point Strategies, a writer-at-large for Texas Monthly, and a columnist for EnergyVoice.com.
Also this hour…
Hazardous Chemical Storage
Recently, the Houston Chronicle released the latest in its series about how and where hazardous chemicals are stored around Houston. We talk with two reporters involved in the series.
Jones Hall Turns 50
Fifty years ago today, on Oct. 3 1966, Houston's Jones Hall for the Performing Arts held its first concert, hosting the Houston Symphony – which still calls the hall home today. Other organizations have called it home over the years too, like the Houston Grand Opera, the Houston Ballet and Society for the Performing Arts.
The venue is named for Houston businessman and philanthropist Jesse H. Jones, of whom Steven Fenberg is a biographer. Now, Fenberg has compiled a coffee table book marking half a century of Jones Hall, called Remarkable Experiences, The Jesse H. Jones Hall for the Performing Arts. He tells Houston Matters producer Michael Hagerty how Jones Hall came to be, what made the building unique and the role it played in launching Houston's theater district.
Texans Beat the Titans and Astros Miss the Playoffs
The Houston Texans played without JJ Watt for the first time in 88 games but still managed to pull out a 27-20 win over the Tennessee Titans Sunday (Oct. 2, 2016). And the Astros finished the season Sunday with a winning record (84-78) but missed the postseason. We discuss those stories — and all the week's sports news — with Jeff Balke, who writes for Houston Press and Houstonia Magazine.
Houston Matters offers a free daily, downloadable podcast here, on iTunes, Stitcher and various other podcasting apps.