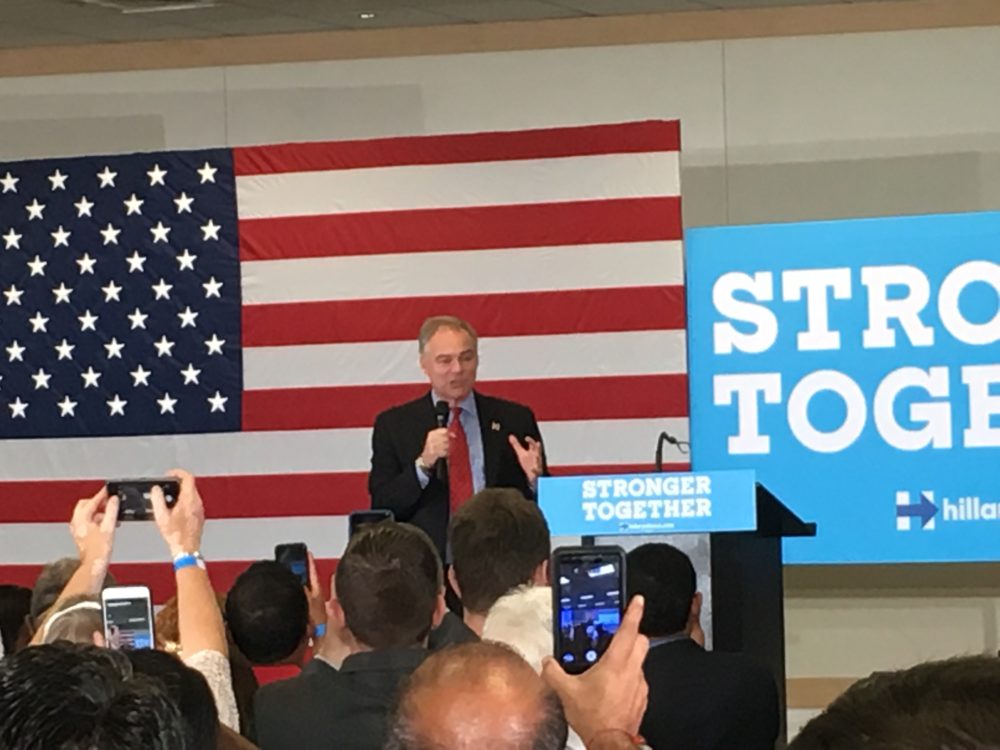 Democratic vice presidential nominee Tim Kaine visited Houston Friday. He spoke at the union hall that also houses Hillary Clinton's local campaign headquarters.
Senator Kaine (D-Virgina) opened by offering Texas Democrats some words of encouragement. He said that when he ran for lieutenant governor of Virginia, Republicans held every statewide office, and the state had not voted Democratic in a presidential election in nearly 40 years.
"We were as red as red could be in 2001," Kaine said. "And let me tell you about Virginia in 2016. All five of our statewide officials, elected, are Democrats. We have gone blue for Barack Obama in 2008 and 2012, and we're going blue for Hillary Clinton in 2016."
Kaine argued that Donald Trump would threaten America's safety by, in his words, "tearing up alliances."
He also hit Trump over the billionaire's refusal to release his tax returns.
"If somebody interviewed with you for a summer job, and you said, 'Can you give me some references?' 'Nope, not going to do that,' you wouldn't hire them for a summer job," Kaine said. "Donald Trump won't answer basic questions like tax returns, and he thinks he's going to be president of the United States?"
Trump has said he would ask NATO countries to pay more of the cost to defend the nations and that he cannot release his tax returns because he's being audited from the IRS.
Kaine also praised his running mate's record.
He singled out her work in winning passage of the Children's Health Insurance Program (CHIP) as first lady. And he stressed the campaign's theme of equality for all Americans. The senator described the November election as a self-defining moment for the country.
"America is looking in the mirror," he said. "We can't afford to get this wrong."
Kaine's visit to Houston follows one by Donald Trump last week and just three days before Trump and Clinton meet in the first presidential debate.