Law enforcement agencies have apprehended New Jersey resident Ahmad Khan Rahami, after a brief but intense manhunt by agencies seeking to question him about multiple bombs in New York and New Jersey since Saturday. No one was killed in the blasts, but 29 people were injured.
Rahami, 28, was captured after a gunbattle with police in Linden, N.J.; images shown on local TV shortly before noon Monday showed Rahami on a stretcher with what looks to be a wound on his upper arm or shoulder, with his hands behind his back.
Chris Bollwage, the mayor of Elizabeth, N.J., said on CNN that the suspect was apprehended and taken away by an ambulance after being injured in a shootout with police. Elizabeth is just northeast of Linden and is the site of Rahami's last known address.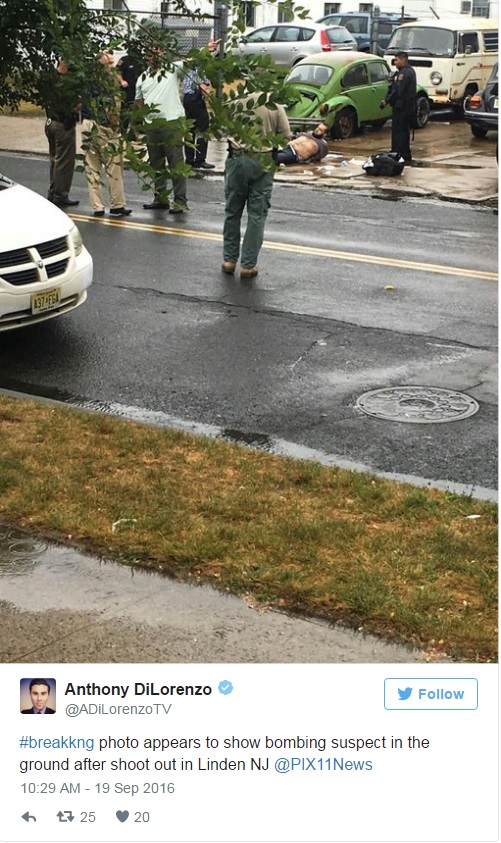 Both the FBI and NYPD want to question Rahami about Saturday night's explosion on West 23rd Street in Manhattan's Chelsea neighborhood. The New Jersey State Police say he's also wanted in relation to an explosion earlier that day at Seaside Park, N.J.
An FBI bulletin announced that Rahami "should be considered armed and dangerous." New Jersey State Police had urged the public to be on alert for a 2003 blue Honda Civic that the suspect was thought to be driving.
Investigators searched several homes in New Jersey early Monday. Two law enforcement officials told NPR's Dina Temple-Raston that a cellphone attached to an explosive device that did not detonate initially led them to the suspect's father, which then led them to Rahami.
Rahami is a U.S. citizen who was born in Afghanistan on Jan. 23, 1988, the FBI bulletin states, adding, "He is about 5′ 6″ tall and weighs approximately 200 pounds. Rahami has brown hair, brown eyes, and brown facial hair."
"The investigation is moving rapidly," President Obama said Monday during a news conference in New York, where he is attending this week's U.N. General Assembly. Obama said he's been briefed by FBI Director James Comey and has been speaking to local leaders, as well.
The president said law enforcement officials so far see no connection between the bombs and a stabbing spree this weekend at a Minnesota mall.
Summing up where things stand, New York City Mayor Bill de Blasio said this morning that he expects new developments to emerge today.
"We need the facts to be able to piece all this together and to find, was it an individual, was it more than one individual, do these different incidents relate," the mayor said on CNN. "I think we're going to know a lot more in the course of today. Things are moving very quickly, and certainly we're going to have a lot more to say in just the next coming hours."
De Blasio spoke less than 12 hours after five explosive devices, including pipe bombs, were found late Sunday in a backpack near the Amtrak and commuter train station in Elizabeth. An FBI bomb team was using a robot to disarm one of the bombs when the device inadvertently detonated. No one was injured.
We're learning more about Rahami Monday, including what seems to be a marked change in his appearance as he went from having close-shaved hair to wearing a beard, as seen in a sequence of photos released by New Jersey State Police Monday.
In addition, NPR has learned that in 2011, Rahami's father and other family members filed a lawsuit against the city of Elizabeth, its police department and other defendants, accusing them of harassment that targeted their business, a restaurant called First American Fried Chicken. The treatment was inspired by the plaintiffs' religion, national origin and race, the plaintiffs say in court documents.
The complaint was filed in district court in Newark; it remain unresolved.
Many developments have emerged since Saturday's explosion in Manhattan, which occurred around 8:30 p.m. ET. Here's a brief recap of where things stand, with the most recent events listed first:
Monday morning: De Blasio and police officials call for help in locating Rahami. New York restores subway service in all Chelsea stations.
FBI agents search a residence in Elizabeth, N.J., above a restaurant.
Sunday night: At a train station in Elizabeth, N.J., FBI technicians working on one of five bombs in a backpack that was initially discovered in a trash can detonate the bomb. No injuries are reported.
FBI agents stopped "a vehicle of interest" in Brooklyn in connection to the Manhattan explosion, the AP reports, citing FBI spokeswoman Kelly Langmesser. The AP says five people were in the car.
Sunday morning: All 29 of the people who were injured in Saturday night's blast in Chelsea have left hospitals. Officials also say the blast did not cause any structural damage.
Saturday around 8:30 p.m.: An explosion hits New York City's Chelsea neighborhood on West 23rd Street. Just blocks away, another bomb is found — and it's similar to the first. As the Two-Way reported, "Both were pressure cookers and Christmas lights were used to spark the explosives. A flip phone appeared to serve as the timer for both devices. Both pressure cookers were filled with ball bearings and BBs to serve as shrapnel."
Saturday morning: An explosion hits a trash can in Seaside Park, N.J., around 10 a.m., forcing officials to cancel a benefit run that had been planned to help members of the military and their families.
This is a breaking news story. As often happens in situations like these, some information reported early may turn out to be inaccurate. We'll move quickly to correct the record and we'll only point to the best information we have at the time.
Copyright 2016 NPR. To see more, visit http://www.npr.org/.