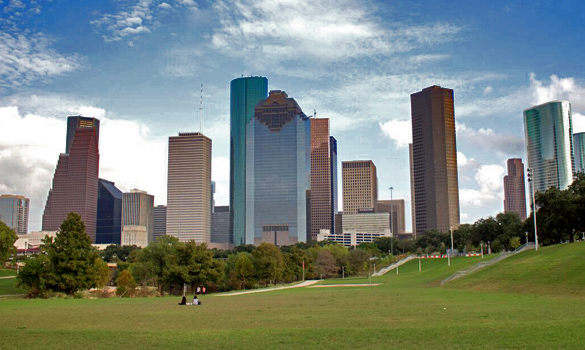 Almost like a drumbeat, Houstonians know – and love to repeat – the notion that we are the "most diverse city in America." And Dr. Stephen Klineberg, co-founder of the Kinder Institute for Urban Research at Rice University, says that's correct. Houston exhibits something called "the entropy index," meaning our city comes closer than any other major city of having a population that is evenly balanced as one-fourth Asian, one-fourth African American, one-fourth Latino and one-fourth Anglo.
And that might be enough to give Houstonians with civic pride a case of the diversity warm-fuzzies. But...something's missing. Are those diverse populations as diversely interspersed throughout Greater Houston? Despite its diversity, is Houston in fact segregated by race? Or is it segregated by some other factor?
On this edition of Houston Matters, Dr. Klineberg explains how, in order to find a good example of how Greater Houston deals with diversity, you need to look outside Harris County all together at nearby Ft. Bend County.
Also this hour…
Construction Numbers Are Down in 2016
In the first seven months of 2016, residential construction in Greater Houston was down nearly 16 percent compared to the same period last year, while non-residential construction was down 23 percent, according to figures from Dodge Data and Analytics, a New York-based construction data analysis firm. Building overall was down nearly 19 percent.
Those numbers don't surprise too many people given the prolonged slump in oil prices. But how do they compare to what analysts forecasted for the year? Houston Matters producer Michael Hagerty talks with Bill Gilmer from the Institute for Regional Forecasting at the University of Houston's Bauer College of Business to see if the numbers so far have lived up to expectations.
Sir Ben Kingsley to Perform with the Houston Symphony
This Saturday (Sept. 17, 2016), the Houston Symphony, under the direction of conductor Andrés Orozco-Estrada, will perform Prokofiev's classic children's story set to music, Peter and the Wolf. And that's a bit of a departure for the symphony in terms of a season opener – at least until you learn who's narrating it: actor and Academy Award winner Sir Ben Kingsley. Houston Public Media's Catherine Lu talked with Kingsley earlier this week, and they discusses his relationship with the piece and how he finds the voices of the characters he plays in film.
How 'Willy Wonka' Became a Cult Favorite
When Gene Wilder died late last month (Aug. 29, 2016), area film critic Joe Leydon reached out to Houston Matters, noting what he called "unfortunately great timing" for a special screening in town (Monday, Sept. 19, 2016 at Alamo Drafthouse) of Willy Wonka and the Chocolate Factory, starring Wilder as the titular Wonka. The film, based on the Roald Dahl book Charlie and the Chocolate Factory, wasn't exactly a huge hit when it debuted in theaters back in 1971. But it gained a cult following and eventually became a beloved classic on television and video through the 1980s and 1990s, leading to a remake in 2005 starring Johnny Depp. We talk with Leydon about the original film, Gene Wilder's performance as Wonka and why both still resonate today.
Houston Matters offers a free daily, downloadable podcast here, on iTunes, Stitcher and various other podcasting apps.