State Board of Education members on Tuesday heard public comment about a controversial textbook meant for the Mexican-American Studies course in Texas schools. It's being called a racist text filled with over 141 factual errors and where depictions of Mexicans range from lazy to drunkards.
LISTEN: Public Gives Mexican-American Textbook Failing Grade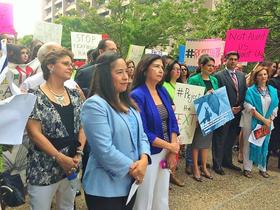 UTSA Education professor and the state's 2015 Poet Laureate, Carmen Tafolla, was part of a group of non-profit organizations, university professors, and civil rights activists who rallied before the State Board of Education as it held its hearing on Tuesday. Tafolla encouraged Mexican-American families to look beyond the textbook's depictions of Mexican-Americans and create their own oral history.
"Look in the foot wells of our steps, the careful fold of the shuck of the tamale, learn to read the eyes, the hands, spine, you must be like a detective or a spy, subtle, unnoticed, unrelenting for they are out there our stories," Tafolla says.
Tafolla says this textbook by design allows the state to mentally push generations of Mexican-Americans to the bottom of society.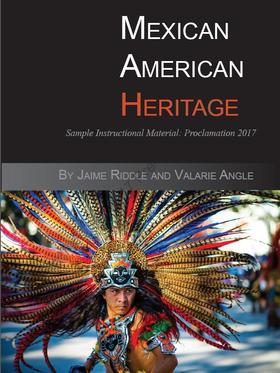 One section of Texas' Mexican-American Heritage textbook reads, "Stereotypically, Mexicans were viewed as lazy compared to European or American workers," and that "it was also traditional to skip work on Mondays, and drinking on the job could be a problem."
Trinidad Gonzalez is a Mexican American studies professor at South Texas College in McAllen and was one of the four college instructors asked to independently review the book after its submission.
"If the student is reading the textbook, then that's going to solidify that Mexicans are lazy, that's both the scholarly issue but then it also becomes a moral issue," Gonzalez says.
The book, which was the only textbook submitted for this newly designed course, was written and published by Momentum Instruction, an educational publishing company run by former State Board member and Republican activist Cynthia Dunbar. She says that these sections of the book reflect the hardships and stereotypes that Mexican-Americans have had to overcome.
In October, State Board members will announce all of the errors the publisher will need to correct and then in November they will vote on whether or not to adopt the textbook.
Copyright 2016 KSTX-FM. To see more, visit
KSTX-FM
.