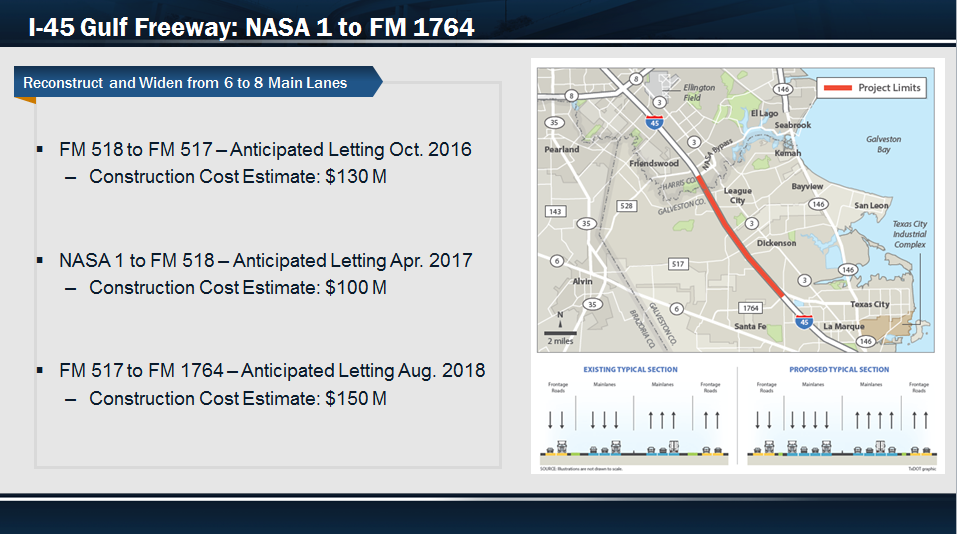 It's been a tight squeeze for I-45 commuters who've had to wind through plenty of construction between the South Belt and the Harris County line. Early next year, that work is expected to move south into Galveston County as TxDOT widens I-45 from six lanes to eight.
The $380 million project runs from NASA Road 1 to Emmett Lowry Expressway, the road into Texas City. And they'll do that work in three segments.
TxDOT engineer Jamal Elahi says they'll start the project in the middle, between FM 518 and FM 517, from League City to Dickinson. Then they'll start work on the segment between 518 and NASA Road 1.
"Those two segments are currently funded," says Elahi. "We also have another segment which is currently under the schematic development phase, which is from 517 to 1764."
As for what this means for drivers headed down to the island, Elahi says they will keep mainlanes open while they do that work.
"And we will shift the traffic to one side of the highway but we'll have enough widening so the lanes are going to maintain," adds Elahi. "We are not going to shut anybody's access. Access will remain open in all phases of construction."
TxDOT hopes to eventually extend the widening project all the way to Galveston, but that's not expected to start until 2019.