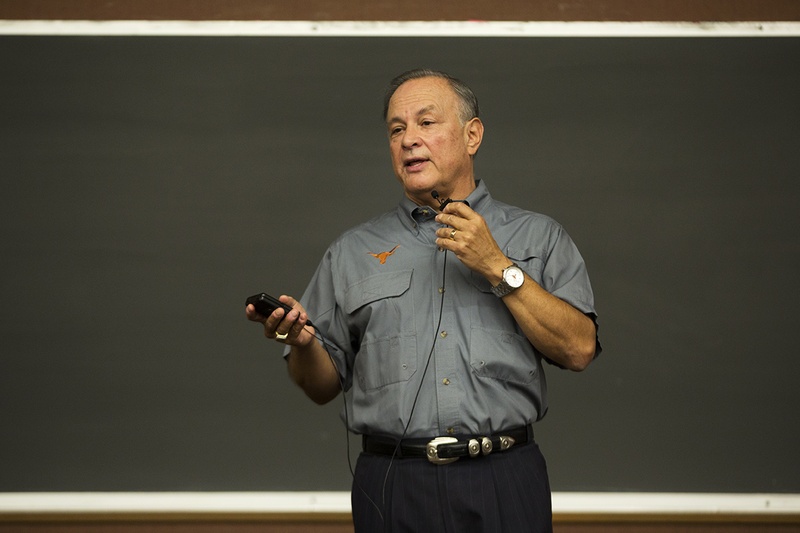 Texas on Wednesday kicked off a voter education campaign ahead of the November elections amid heightened scrutiny of the state's voter ID law.
Under an agreement with the U.S. Department of Justice and minority rights groups, the state is required to spend $2.5 million to educate voters about its voter ID requirements. Registered voters will be able to cast a ballot Nov. 8 without a photo ID under the agreement, which came weeks after a federal appeals court ruled that Texas' 2011 voter identification law was discriminatory.
The inaugural Vote Texas event on Wednesday, at which Secretary of State Carlos Cascos told students at the University of Texas at Austin to get into the habit of voting at a young age, was planned before the agreement, Cascos said.
"Our role is not necessarily to increase the vote, but I think that with voter education, the voter training that we're assisting with and reaching out to first-time voters about the importance of registering, that'll translate into a greater voter participation," Cascos said in an interview.
In March's presidential primaries, Texas saw a record number of voters. Despite this, the state's turnout of voting-age residents — 21.5 percent — lagged behind that of many other states. Cascos said at a Texas Tribune/Society for News Design event on Friday that Texas should be "embarrassed" by the state's low voter turnout.
On Wednesday morning, Cascos spoke to hundreds of students in an undergraduate American history course, including many who then registered to vote. He told students that if they didn't have one of seven acceptable forms of identification, they could still vote.
"To me, it's not important what county you register in, as long as you register to vote and exercise that right," Cascos told the students.
Student Laura Knaus, 18, said her parents taught her the importance of voting.
"It's important to vote because you have a say in the country," Knaus said with a voter registration form in hand. "You can't complain that you're not happy with the candidate who's elected if you didn't vote."
Registering to vote doesn't always mean showing up to the polls, said Rich Hasen, a lawyer and chancellor's professor of law and political science at the University of California, Irvine. In a phone interview, Hasen said that many people register to vote when they get their driver's license as a "convenience," and that Texas' reputation as a predominantly Republican-leaning state may contribute to its low voter turnout.
"Voter turnout tends to be low is when there is one party that is in power, so people feel there's no incentive to go out and vote," Hasen said. "We see this in California as well, but turnout is a very complicated thing. It depends on a lot of factors, from the ease of voting, to interest in the election, to information that voters have about what's available to them."
If millennials become more engaged in following election cycles, Texas could become more competitive, Hasen said.
"Given that millennials tend to have different views on issues such as same-sex marriage and views about Donald Trump, if they showed up in larger numbers they can have an effect on electoral outcomes," Hasen said.
Cascos is expected to travel across the state as part of the Vote Texas program. He's scheduled to speak to Texas State University students in San Marcos on Thursday.
Read more of the Tribune's related coverage:
Disclosure: The University of Texas at Austin has been a financial supporter of The Texas Tribune. A complete list of Tribune donors and sponsors can be viewed here.
This article originally appeared in The Texas Tribune at https://www.texastribune.org/2016/08/31/vote-texas-event/.