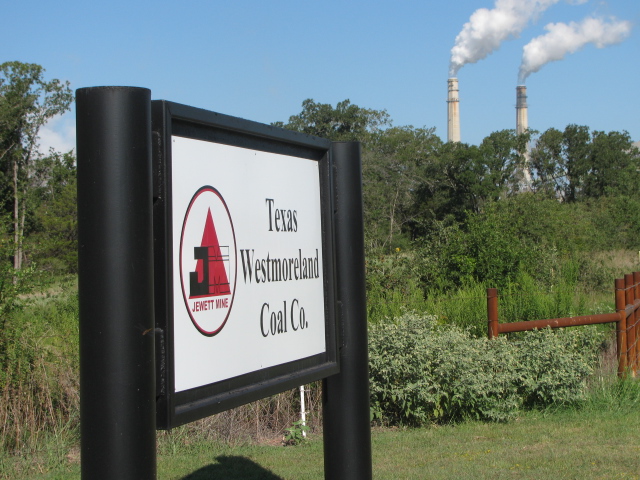 Half-way to Dallas and just west of I-45 is the town of Jewett where the Mayor, John Sitton, says they got some bad news earlier this week about a major employer.
"My brother-in-law works out there. They're very upset because that's all he knows," Sitton tells News 88.7.
What his brother-in-law knows is how to mine coal. A gigantic strip mine run by the Westmoreland Coal Company lies just north of town. It opened in 1985 to feed the nearby Limestone Power Station owned by NRG, a giant energy company that has headquarters in Houston.
"We've looked at this long and hard," says David Knox, an NRG spokesperson.
Knox says the company concluded that the locally-mined coal had become too expensive. It's a lower quality coal compared to what's mined in other states. So by the end of the year, the plant will use only coal shipped by rail from Wyoming from that state's Powder River Basin, a higher quality coal that provides more energy per ton and burns cleaner.
"It's a very clean plant under the current system. When we shift it to 100 percent Powder River Basin coal it'll be even cleaner," Knox says.
Cleaner in terms of air pollution. The plant already has equipment to remove sulfur and carbon monoxide that comes from burning coal. Coal burning power plants are a major source of ozone pollution and greenhouse gases and are under fire from environmentalists and the Obama Administration.
"That may change if they tweak some things and get some slightly cleaner coal in there but it's not going to be enough to address the pollution from this plant," says Christina Mann with the Sierra Club's "Beyond Coal" campaign.
Environmentalists like her have been trying to have coal-burning power plants phased out completely. Several power plants in other parts of Texas continue to use Texas "lignite" coal, as it's called.
So the NRG plant will still burn coal but not from Jewett where they're expecting to lose a couple hundred jobs by years end as the mine shuts down.
The land damaged by the strip mining operation will be repaired as required by law and overseen by the Railroad Commission of Texas. NRG's Knox says the company has $100 million in bonds issued by a third party insurance company to cover the cost of "reclaiming" the land.