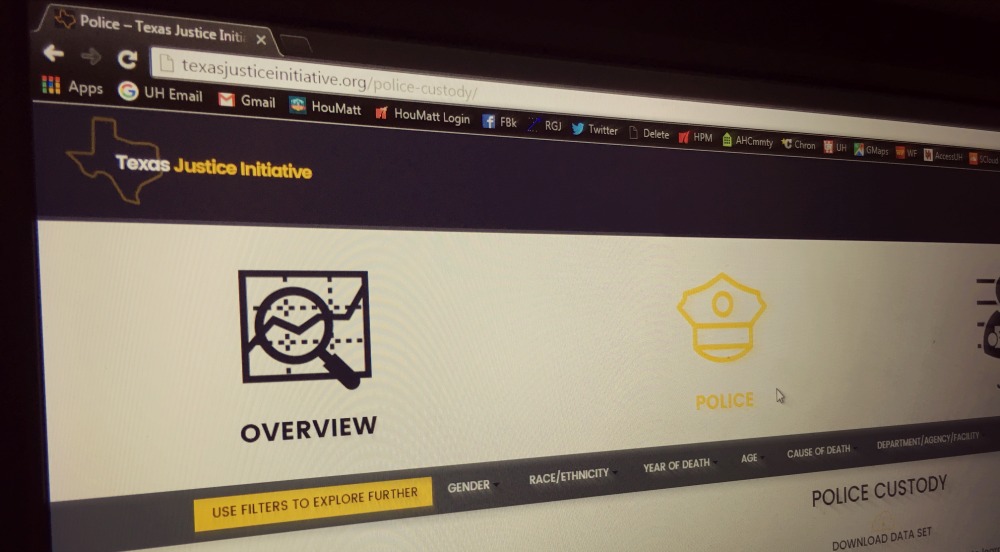 There's a new database documenting the deaths of Texas citizens in two types of situations: deaths as a result of encounters with law enforcement (such as the use of deadly force) and deaths that occur while in law enforcement custody (such as in jail or in prison). The database, called the Texas Justice Initiative, says that in the decade from 2005 to 2015 deaths resulting from law enforcement interactions steadily rose, while the number of deaths in Texas jails or prisons fluctuated. On this edition of Houston Matters, we talk with the brainchild of the database and with Harris County Sheriff Ron Hickman about what the data shows, and what's being done about such deaths.
Also this hour:
Riding the METRO Bus to School
As the new school year starts, students all over Houston are riding the bus to class. And in many cases it's not a yellow school bus – but a public Metro bus. News 88.7 transportation reporter Gail Delaughter looks at what METRO's doing to encourage students to ride and why one teen has decided to hop aboard.
Examining the Future of Affordable Housing in Houston
The Houston Housing Authority is a city agency tasked with developing affordable housing in the city through a federal low-rent public housing program and a housing voucher program. HHA has proposed eight projects in the last three years. Five of them have been blocked, and while the agency has redeveloped existing properties, purchased land and developed blueprints it hasn't actually built any new housing in a decade.
The agency's outgoing chair, Lance Gilliam, points to "third-party" roadblocks. Take two of the proposed projects, in Acres Homes and on Fountain View Drive: Mayor Sylvester Turner said he'd block the housing authority's project at 2640 Fountain View (in one of the wealthiest zip codes in Houston) because the project's per-unit cost was too high. And Gilliam says fair housing advocates criticized a plan to build affordable housing in Acres Homes because the neighborhood was, in his words, "too black and too poor."
The root of the problem is this: fair housing advocates want such projects built in "high opportunity neighborhoods," a policy upheld by the Supreme Court. But inevitably, residents in those neighborhoods question costs and the impact on property values, school population and crime. And with no formal affordable housing plan in place, identified projects don't go forward. How do we end this cycle and get some new affordable housing built in Houston? We discuss it.
If You Have Cancer, Is Your Treatment Automatically Better in Houston?
Part of the narrative of Greater Houston is that it's a good place to be if you should have to contend with cancer. We not only have the Texas Medical Center here, but we're the home of MD Anderson Cancer Center. So, clearly, if you're going to have to have cancer in Texas, this is the place to be. Except, a new report suggests, no, it's not. Or at least, it's no better or worse than anywhere else for particular cancers among the elderly. To tell us more about the research, we hear from Vivian Ho, chair in health economics at Rice University's Baker Institute for Public Policy and director of the institute's Center for Health and Biosciences.
Houston Based Animator Puts Hand-Crafted Paper Characters To Life
Brandon Ray is a Houston-based filmmaker who makes a living telling stories through hand-crafted animation. In addition to short films, his production company has completed projects with nationally syndicated programs for Amazon Studios, the Disney Channel and Sesame Street. In an excerpt from Houston Public Media's Arts InSight, Ray talks about his work, and how his world changed when he started bringing paper to life.
Houston Matters offers a free daily, downloadable podcast here, on iTunes, Stitcher and various other podcasting apps.