Listen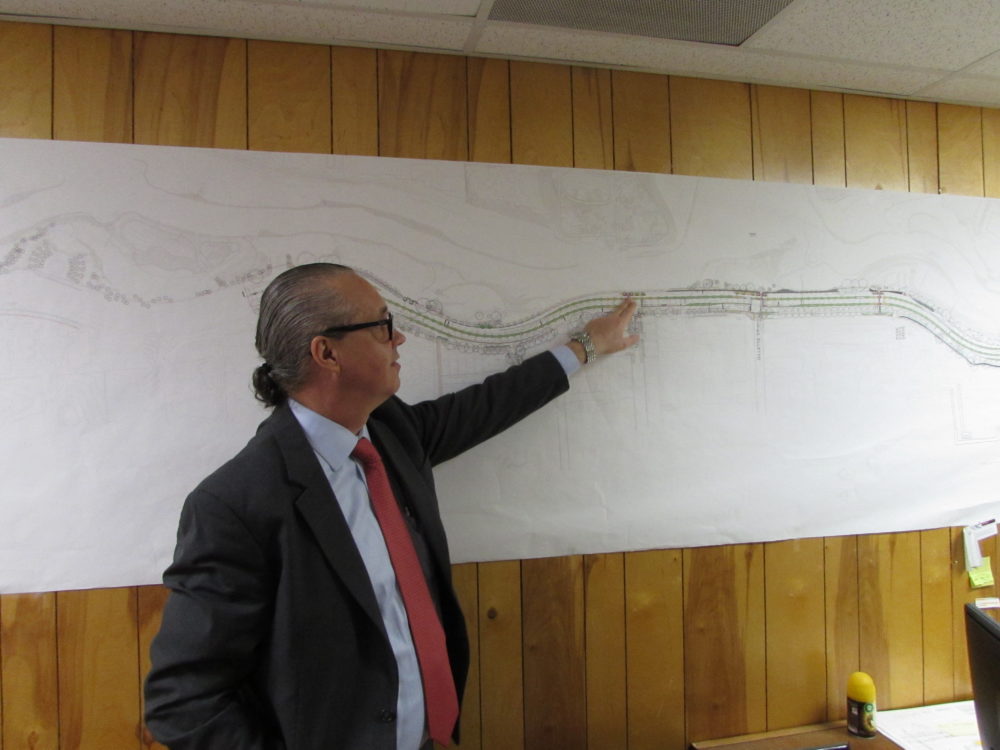 The Downtown Redevelopment District's Lonnie Hoogeboom points out the new crosswalks on Allen Parkway.
It's a rainy morning in Houston, but that's not stopping Mason Markee and his dog from taking a run along Buffalo Bayou.
"I mean today's like the coolest day of the year in like, four months," says Markee. "So you've got to get out on it."
Markee lives nearby, on the edge of Midtown, and he's familiar with the situation on Allen Parkway. The four-lane divided road runs between Shepherd and downtown. It's a popular route for drivers coming in from the Montrose and the Heights.
You also see a lot of cyclists and runners who are trying to get to the bayou trails. And that's been a big problem.
There is a pedestrian bridge over Allen Parkway, but if you're trying to cross at street level it's hard to find a safe place to do it. Markee says when he's driving Allen Parkway pedestrians sometimes dash across the road.
"I've definitely been driving on this road before and people cross in front of me and you have to slam on the brakes and it can be really frightening," adds Markee. "Especially where I-45 South comes back onto Allen Parkway."
But the situation could be getting a lot safer, now that the Downtown Redevelopment District is in the final stages of its Allen Parkway improvement project.
We duck into a construction trailer to learn more about the work. Project inspector Tommy Deskins says slowing down traffic on the busy thoroughfare is definitely a challenge. And that's even while they're doing construction.
"Sometimes drivers are not very understanding of what we need to do and the safety factor involved," says Deskins. "And I know that it's inconveniencing them. But we have a job to do and it's pretty tough sometimes when they don't slow down."
The Downtown District's Lonnie Hoogeboom says crossing Allen Parkway has sometimes been compared to the old video game Frogger, with pedestrians dodging obstacles to get to the other side of the street.
But with the new improvements, Hoogeboom says drivers will have to slow down at four signalized crosswalks. They're at Dunlavy, Taft, Gillette, and Parc Vista Drive. And the speed limit is going to be lower. It'll go from 40 to 35 MPH.
Allen Parkway has also been reconfigured between Montrose and I-45 to allow for more separation between walkers and vehicles.
"They now have a much better physical and psychological buffer between the trails on the park and the mainlanes of vehicles," explains Hoogeboom. "So having that extra close to 50 feet of gap between the traffic and the runners and walkers has really, I think, already proved to be a great benefit."
And Hoogeboom says the project hopes to address another problem: If I'm driving to the Buffalo Bayou trails, where do I park my car?
The reconfiguration will allow for about 140 metered parking spaces.
"When the project is completed and everyone is able to use it in October, and they have those parking spaces available, we'll see an increase in park use, much better accessibility for really all users to get to the park," says Hoogeboom.
Back out in the rain, jogger Mason Markee says that day can't come soon enough.
"Oh I'm really looking forward to whenever it's a finished product. I mean, what they're already done with the bayou is amazing," says Markee. "And now we're going to have walkways across Allen Parkway, it's going to be fantastic for runners and bikers out here."
The Allen Parkway project was supposed to be finished this summer, but crews were delayed because of heavy rain in the spring. They also put the project on hold for several weeks this summer because of festivals and other events along the bayou. Officials now expect most of the project to be finished next month.
The Downtown District is paying the entire $14 million cost.