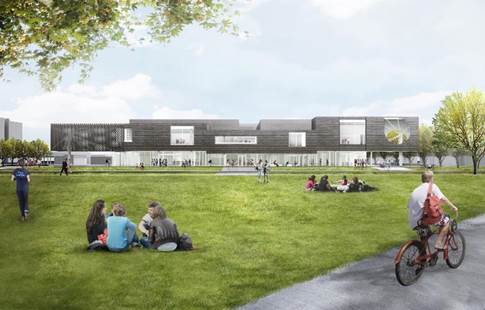 The doors don't officially open to the public until early next year, but Rice University's new Moody Center for the Arts has already named its first artist in residence.
Mona Hatoum is a Beirut-born artist based in London and is set to take her post at Rice this spring. The center's Executive Director Alison Weaver says she chose Hatoum for several reasons, one being the subject matter of her art.
"Her work really touches on issues such as power dynamics, gender, issues around Middle Eastern politics and women in the Middle East," Weaver says.
The residency will be in partnership with Houston's Menil Collection, where Hatoum will exhibit her work in October 2017. It's one example of what Weaver hopes will be many such collaborations in the future. Even though the Moody Center is defined as a home for the arts, Weaver says it's actually going to be open to all departments at Rice.
"So it's equally welcoming to computer science and engineering as it is to the visual arts and arts history," she explains. "And we hope to collaborate with our colleagues at the Shepherd School of Music and the School of Architecture."
The $30 million, 50,000-square-foot building sits on the southwest side of campus near University Boulevard and is set to open to the public on February 24th of next year.