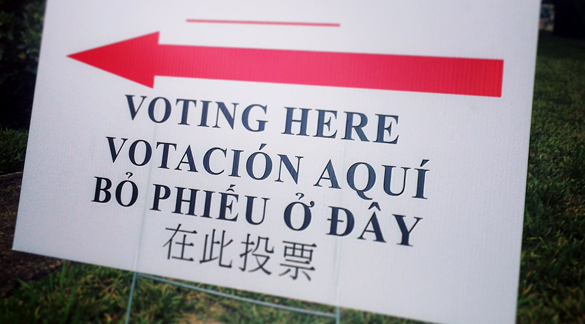 On Monday's program (Aug. 8, 2016), we heard from representatives of the Green Party after that group's national convention was held in Houston over the weekend.
In an election cycle where unconventional, outsider candidates have garnered much of the spotlight, there's a belief among so-called third parties like the Green Party or the Libertarian Party – that this could be a moment for them to make significant gains in the political landscape.
As we heard Monday, these parties are excited. But a bit of a reality check may be called for here.
On this edition of Houston Matters, Michael Hagerty talks with Mark Jones, political science professor at Rice University, who says – no matter what year it is – parties without the name Democrat or Republican face an uphill climb.
Also this hour:
Why Is Prison Spending Outpacing Education Spending?
A recent report from the U.S. Department of Education says over the past three decades, state and local spending on prisons and jails has risen more than three times faster than spending on elementary and secondary education. The disparities are far greater in Texas, where prison spending grew at nearly eight times the rate of school spending. We talk with criminal justice professor Krista Gehring from UH Downtown about why there is such a discrepancy between corrections spending and education spending in Texas.
Why A Drug to Treat Opioid Overdoses is Available Over the Counter in Texas
A drug called Naloxone is being made available over the counter in Texas. The drug is a nasal spray that helps in the immediate aftermath of an opioid overdose. There's a Houston medical toxicologist who sees a lot of these overdose cases, and he's worriedly watching those numbers climb. His name is Dr. Spencer Greene, director of medical toxicology and assistant professor at Baylor College of Medicine. He tells us about Naloxone and how its wider availability might affect those with opioid addictions.
Learn How to Play Bridge In Under 8 Minutes!
Houstonian Eddie Wold was recently inducted into the Hall of Fame for the American Contract Bridge League. Wold started playing while attending Rice University. Today, he's an active bridge teacher in the area. He recently returned from Washington, D.C., where he played in the North American Bridge Championship. Maggie Martin invites Wold to the studio to talk about what it takes to be a hall of fame bridge player, and she poses a challenge: could he teach her how to play the card game in eight minutes or less?
Houston Matters offers a free daily, downloadable podcast here, on iTunes, Stitcher and various other podcasting apps.