Listen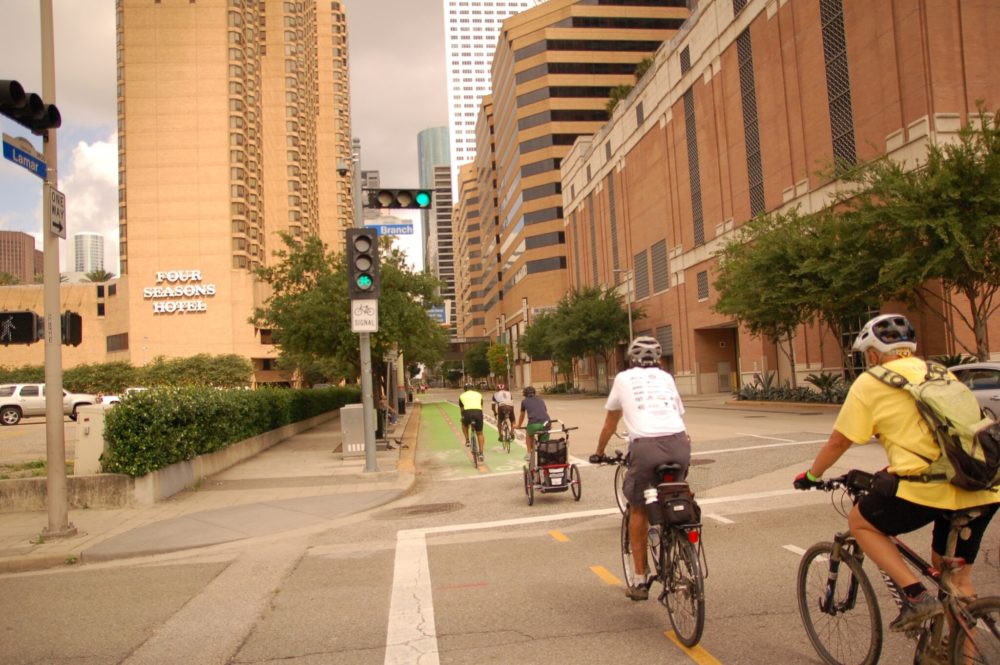 The Lamar Street bikeway connects downtown Houston to the Buffalo Bayou. The ultimate goal of the City of Houston's bike plan is to have a network of over 1,780 miles by the year 2026.
The City of Houston's grand opening of the East End's Guadalupe Plaza Park is set for July 30th. After a renovation, it will have a splash pad and pedestrian walkways.
The park will also feature new bike lanes as part of the city's bicycle network, which is growing.
Besides the popular trails along the Buffalo Bayou, there are new lanes, like the one connecting downtown to the bayou through Lamar Street.
Mary Blitzer, who serves as advocacy director of Bike Houston, says the expansion is crucial.
"We wanna be a world class city," says Blitzer, from the non-profit that promotes bicycle use in Houston. "San Francisco is doing it, Austin is doing it, New York, DC, Chicago. We gotta keep up and we wanna be competitive."
The City of Houston's bike plan is the blueprint to develop an ambitious bicycle network. The goal is to have over 1,780 miles of bikeways by the year 2026. The City estimates the total cost will be between $100 and $170 million.
Patrick Walsh is the Director of the Houston's Planning and Development Department. He says the city will commit funding to the bike plan, but it cannot do it alone.
"We are gonna be needing to talk to partners like the Houston Parks Board, who are doing such a great job with Bayou Greenways," Walsh says. "We are gonna look at other special districts, like management districts and TIRZs (Tax Increment Reinvestment Zones) and see if maybe they could participate."
The Houston City Council still has to formally approve the bike plan. Walsh says that could happen sometime in the next two months.