Listen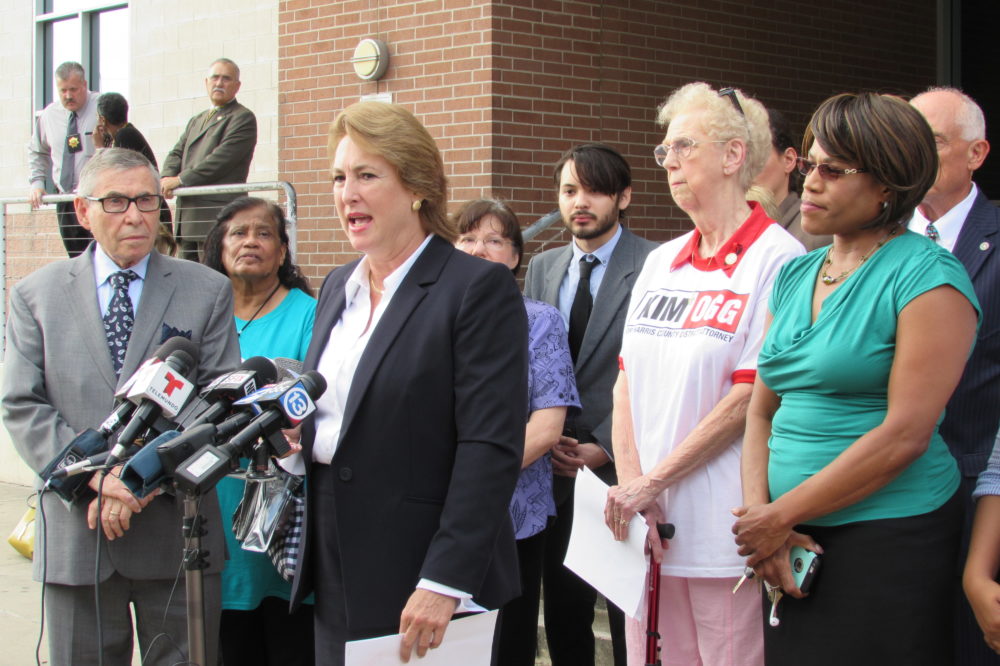 Kim Ogg stands with supporters outside the Harris County Jail. Ogg is challenging Devon Anderson for Harris County District Attorney.
The controversy came about after the victim broke down on the witness stand as she testified against an accused serial rapist. The woman was then hospitalized for over a week and released.
But then, Harris County prosecutors said they were concerned she wouldn't return to testify. So they got a judge's order to hold her in jail.
That worries Houston attorney Linda Cryer, who worked with the city to develop a rape evidence kit 40 years ago. She says when the woman was jailed she was victimized twice.
"And it's so outrageous to me that it almost creates an embarrassment to the rest of the country," says Cryer.
Cryer spoke at a news conference outside the Harris County Jail. It was held by former prosecutor Kim Ogg, who's challenging District Attorney Devon Anderson in the November elections.
Also speaking was Houston psychiatrist Harvey Rosenstock. He says holding a victim in jail only makes a bad situation worse.
"These people may need a lifelong, years and years of treatment to be able to reconstitute themselves back into a whole if ever," says Rosenstock.
Anderson earlier issued a statement defending her department's actions. She now says they're taking steps to make sure the same thing doesn't happen in the future. The victim meanwhile has filed a lawsuit in federal court.