Listen
Stock photo of a teacher writing on the classroom chalkboard. Photo credit: Free Images
When school starts in August, most teachers and kids will fall back in the familiar routine of lesson plans, homework and tests.
But one district in Greater Houston could throw out the rule book, reinventing how it does school.
The Spring Branch Independent School District has become an official "district of innovation."
Last year, the Texas Legislature created the designation, which allows school districts to skip many state rules for public education.
"What if we could think differently about educational opportunities for our children? What might those be?" Superintendent Scott Muri asked at a community meeting in Spring Branch earlier this year.
Inside the cafeteria at Spring Woods High, dozens of parents, teachers and community members had their own ideas, like Olivia Koepke, then in fifth grade.
"I like where it's more hands and when the teacher is, like, more speaking to us, " she said. "Their ideas and personal thoughts."
Her mom, Georgia Koepke chimed in.
"I would like more openness, more consideration for beyond 8-3 or whatever," said Koepke, who's also a teacher in the district.
Spring Branch ISD is going to take this brainstorming and experiment in the classroom.
It's one of 12 Texas school districts that have voted to become a district of innovation. Others include El Paso, San Antonio and Dripping Springs near Austin.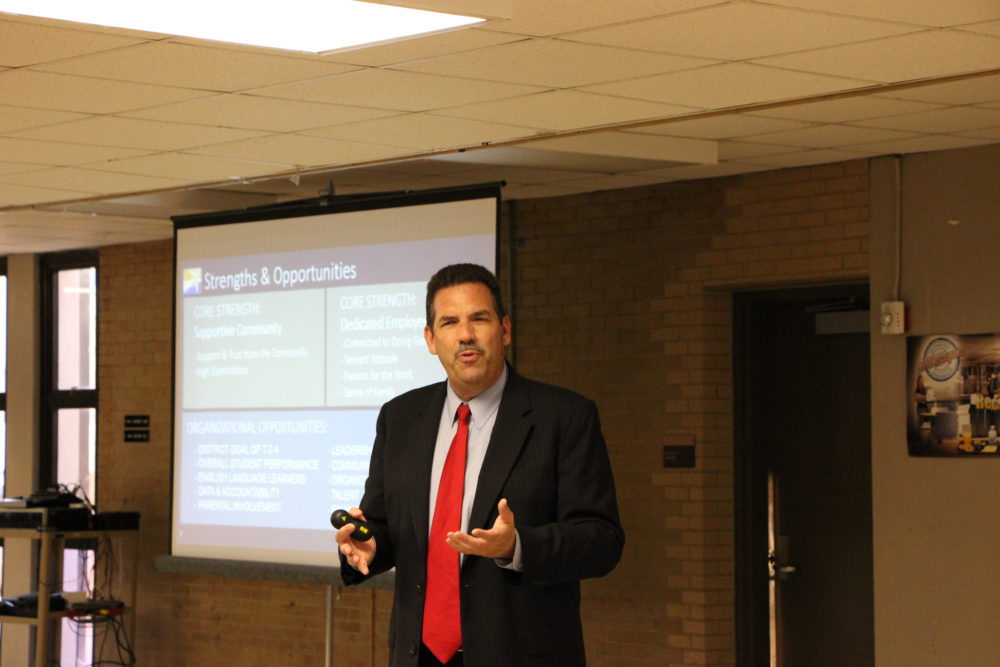 It means they can opt out of rules like the school start date, which is currently mandated by the state, teacher contracts, teacher certifications and class size, according to DeEtta Culbertson with the Texas Education Agency.
But they can't throw out all the rules.
"They still have to follow curriculum. They still have to follow testing. They still have to follow accountability. They still have to follow all applicable federal laws," Culbertson said.
They also have to teach the required subjects like English and math.
Think of it like a basketball game. The whole objective is to still throw the ball in the hoop and score points. But maybe players can double dribble or bend other rules.
So, the point of school remains the same. But how districts go about it can totally change.
Other states like Georgia, Kentucky and Tennessee have similar experiments to give traditional public schools more flexibility.
"In a nutshell, it allows a school district in the state of Texas to gain a little bit of local control, to really look through the laws that the state of Texas that govern education and to think differently about some of those laws," Muri said.
He said that Spring Branch ISD could waive one law that deals with time: how much time kids have to spend in school in Texas.
"Today our kids have to sit in a seat for 180 days in order to learn content and we realized that concept was created about 150 years," he said. "We've advanced a little bit in that length of time but our traditional calendar has not yet advanced."
Muri explained that the time could be shortened for students who learn faster and it could be stretched out for students who struggle.
He and the board have pledged that if Spring Branch does opt out of any specific law, they will take an extra step beyond the law's requirements and require a super majority vote. Currently, the district is focusing on raising awareness about potential changes and gathering more community feedback.
But some educators worry that this kind of innovation will open a Pandora's box.
"We just don't think it's appropriate to just completely throw out an entire body almost of law in one fell swoop," said Jennifer Canaday with the Association of Texas Professional Educators.
Canaday said that the original laws – like class size and teacher training – were put in place for good reason.
She believes this lets districts act like charter schools, which receive tax dollars but have more flexibility on state's rules.
"When the public school district adopts that same model and becomes more of an alternative type of school, then you have a problem," she said. "Because if parents don't like it, if parents aren't happy with some of those laws that the district has exempted itself from, there's really nowhere else for them to go."