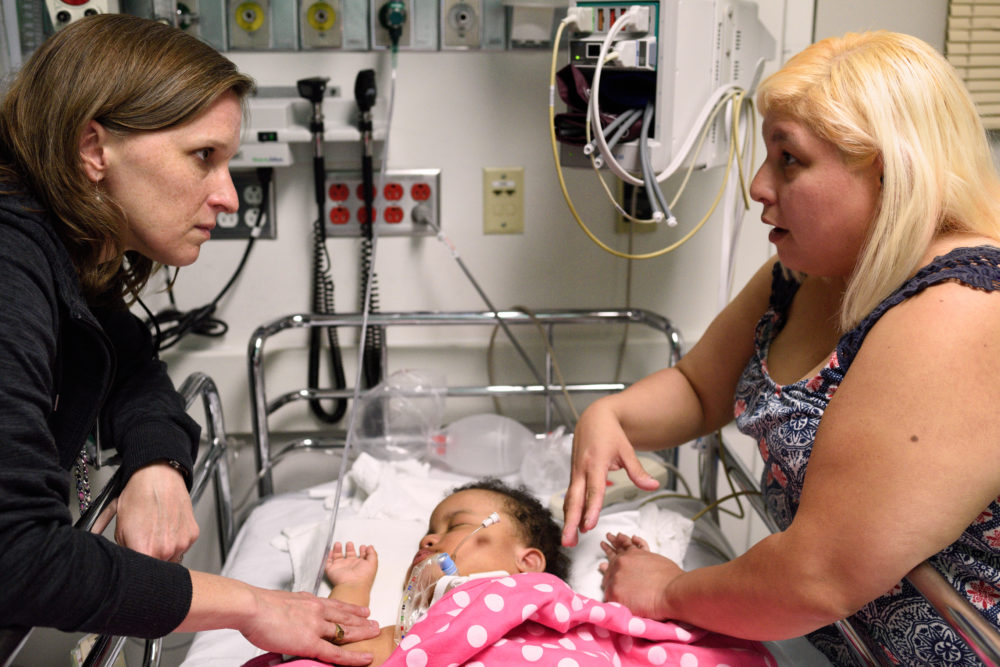 Dr. Cara Doughty, left, discusses the treatment of a young girl, Cattleya Johnson, in the pediatric emergency room at Texas Children's Hospital.
About a quarter of patients who end up in emergency rooms are children, but research has revealed that hospital ERs and ambulances aren't always prepared to treat pediatric patients.
Various projects are underway to study the problem and fix it, and now Houston will have a central role. The federal government has chosen Texas Children's Hospital and Baylor College of Medicine to co-host a new center to improve emergency treatment of children. The two institutions have been awarded a four-year, $6 million federal grant to establish The Emergency Medical Services for Children Innovation and Improvement Center. The Center will function as a national think tank, bringing together all the available research on the best ways to treat pediatric emergency patients, and making recommendations to policy makers.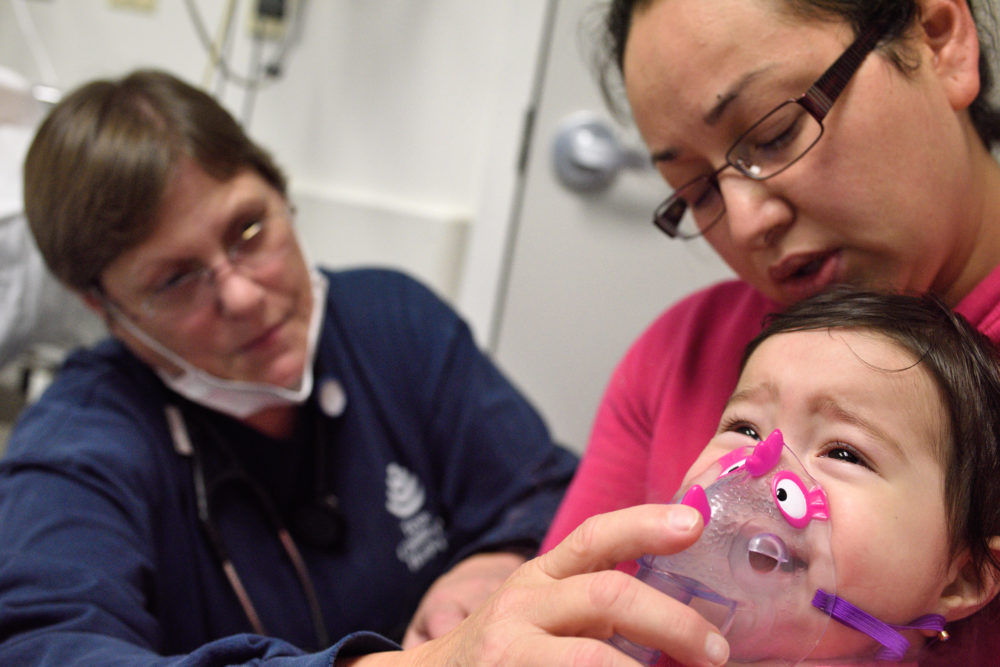 Health and science reporter Carrie Feibel sat down to talk about the problem with Dr. Manish Shah, a pediatric emergency clinician and researcher at Texas Children's.
Carrie Feibel: "What are the problems when it comes to children who need emergency care?"
Dr. Manish Shah: "There is a lack of coordination between ambulance services or emergency medical services, and hospitals. In addition, the majority of children are seen in general emergency departments and not in children's hospitals, and those hospitals need to be equipped to care for children, and unfortunately, that is not the case."
Carrie Feibel: "What kind of equipment do these ERs not have for kids?"
Dr. Manish Shah: "Airway devices for infants, masks to help ventilate infants. Things that can be very critical pieces of equipment, since respiratory distress is a common cause of reasons why a small child may visit an emergency department, and so not having those things can be critical."
Dr. Shah went on to explain that EMS workers on ambulances frequently don't treat children for pain, because they may be unsure about dosages for a child or lack training in how to assess pain in a child. He also shared a harrowing story about local parents whose child had a prolonged seizure, and what happened when the ambulance and local ER weren't prepared.
To hear the full radio interview, click the audio player, above.